Melbourne's Swinburne University of Technology in Australia has launched a new supercomputer.
The Victoria-based university this week announced the launch of Ngarrgu Tindebeek, a new AU$5.2 million (US$3.36m) system.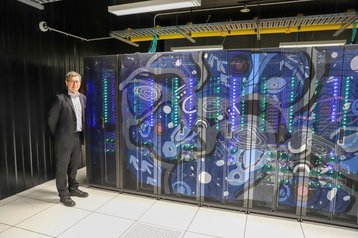 The AMD and Nvidia-powered HPC system will aid space technology, medicine, and environmental investigations by researchers and partners across Australia.
Ngarrgu Tindebeek features 11,648 CPU cores and 88 GPUs in total. It is powered by 150 Dell PowerEdge R6525 Server nodes each featuring two AMD Epyc 7543 CPUs, 10 high-memory compute notes, and 22 PowerEdge XE8545 GPU nodes featuring four Nvidia A100s each.
The university received funding for the new system from the Victorian Higher Education State Investment Fund (VHESIF) in 2022.
Ngarrgu Tindebeek was named by Wurundjeri elders through the assistance of the Moondani Toombadool Centre, and translates to "Knowledge of the Void" in the local Woiwurrung language. Indigenous artist Mandi Barton will design feature artwork for the exterior of the supercomputer in the coming months.
"What used to take researchers and students weeks or months to achieve on their desktops, can now be done in a matter of hours," says Data Science Research Institute director at Swinburne, Professor Matthew Bailes. "This supercomputer is designed specifically to help researchers facing massive data sets – like astronomers or neuroscientists - make groundbreaking discoveries. This already makes it such a sought-after machine from scientists in Australia and around the world."
He continued: "Excitingly, it could help us become the first people to convincingly detect gravitational waves from supermassive black holes by performing trillions of calculations every second for weeks."
Ngarrgu Tindebeek joins Swinburne's existing Dell-based OzSTAR system, installed in 2018. The 1 petaflops system is powered by 107 nodes featuring two Intel Golf 6140 CPUs each.
The university also operates a set of cloud-based compute nodes, known as Trevor, which is powered by Intel's Haswell CPUs.