Switch Inc is considering converting into a Real Estate Investment Trust (REIT).
Today Switch announced 'shareholder value initiative,' including the "evaluation of a REIT election" and review of Switch's operational and financial targets.
EXPLAINED: What is a data center REIT?
The company also said Elliott Investment Management L.P. – whose funds are collectively the largest Class A investor in Switch – has collaborated with the data center firm on the initiatives, and announced Jason Genrich from Elliot will join the Board of Directors.
"Switch's strategic position has never been stronger," said Rob Roy, Founder and CEO of Switch. "The initiatives announced today, including the evaluation of a REIT election, are an important step forward to fully realize the value inherent in Switch's technology and Tier 5 data centers."
Switch said it has initiated a formal evaluation process of a REIT election. The evaluation will include a review of the feasibility of becoming a REIT, including various implications on its tax position and dividend requirement. The evaluation may or may not result in a change in Switch's tax filing status.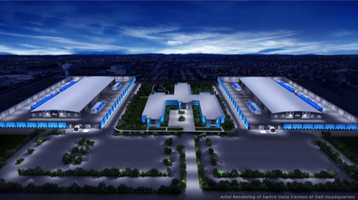 Equinix converted into a REIT in 2015, Iron Mountain in 2014. QTS, Digital Realty, CoreSite, and CyrusOne are all also publicly listed REITs in the US.
"We are strong believers in the vision of Rob Roy and his team. Switch's unique design philosophy and exascale data centers place the Company in a leading position to support the most mission-critical applications for many of the largest global enterprise and cloud customers," said Elliott Managing Partner Jesse Cohn and Portfolio Manager Jason Genrich. "Despite best-in-class operational metrics, including renewable energy sourcing and power efficiency, Switch remains undervalued. We look forward to working with Switch on these initiatives to compound long-term value for shareholders."
For its Q2 2021 earnings results, the company announced revenues of $141.7 million (a nine percent increase on 2020), Net Income of $9.7 million (a 27.4 percent decrease), and Adjusted EBITDA of $79.0 million (a 14.3 percent increase).
"Switch's robust sales performance continued through the second quarter of 2021, driving a record revenue backlog for the third consecutive quarter," said Roy after the results. "Importantly, customer installations in the first half of 2021 have paced ahead of expectations, resulting in strong backlog conversion and accelerated revenue growth.
Roy added that the company was seeing "strong customer demand in Texas" amid the now-closed acquisition of Data Foundry in May and its plan to build a 1.5 million sq ft facility called 'The Rock' in Round Rock.
"We are pleased with our solid second quarter performance, particularly our accelerating revenue growth and strong margin profile as the Prime locations increase in scale," added Gabe Nacht, Switch CFO. "We are also encouraged by the continued growth in our sales pipeline and booked-not-billed backlog of $63.5 million, resulting in an increase to our financial outlook for the remainder of 2021."
Data Foundry contributed $3.3 million in Q2, and Switch said it expects a full year 2021 revenue contribution of $27.5 million to $29.5 million from the company.
Switch's total debt outstanding, including finance lease liabilities, net of cash and cash equivalents was $1.5 billion. The company had liquidity of $577.9 million, including cash and cash equivalents.