Switch is planning a new data center campus in Bartow County, Georgia.
According to the Developments of Regional Impact filings (DRI, 1-2), Switch is planning the "Switch KEEP 2.0 Atlanta North Campus" in the City of Cartersville.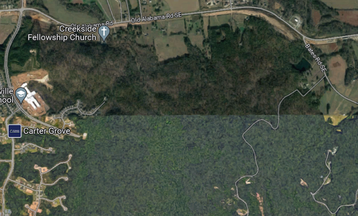 The 126-acre site is located south of the intersection of Old Alabama Rd and Bates Rd to the Paulding County line within Cartersville. The land is currently owned by Carter Grove (Atlanta) ASLI VI.
In one filing, this phase of the project is described as "a single data center facility approximately 1,620ft (493m) in length."
The company intends to invest $772 million in the campus. The first phase of the project is set to complete in Q2 2026, with continued build-out to 2046.
Switch is yet to announce the project.
This property that Switch is targeting was reportedly previously part of future phases of the Carter Grove residential community. When work began in the early 2000s, developers planned up to 2,500 homes. There are currently around 400 in the area.
Cartersville City Planner David Hardegree told SoosaValleyNews the DRI is a 30-day public review process that should officially start on Friday. After 30 days, the Northwest Georgia Regional Commission will collect any received comments and create a report. During the 30 days, the City of Cartersville will evaluate a zoning application and a text amendment application. The text amendment is needed because the city does not have an existing zoning district to accommodate a data center campus that Switch envisions for the property.
Cartersville and Bartow County are located northeast of Atlanta.
DigitalBridge-owned Switch operates one of its Prime campuses in Georgia. Switch Atlanta – known as the Keep and located in Douglas County west of Atlanta – offers a total of 150MW across more than 1 million sq ft (92,900 sqm). Plans for the site were first announced in 2017.
Switch operates its other large 'Prime' data center campuses in Reno, Las Vegas, and Grand Rapids. It is building a large data center in Texas, where it also bought Data Foundry for $420 million.
Switch also retains a stake in the SuperNAP facility in Bangkok, Thailand. The company also has an Edge business with Dell building Edge data centers at FedEx locations across the US.
DigitalBridge, alongside IFM Investors, took Switch private in an $11bn deal in December 2022. Australian pension fund Aware Super invested in the company earlier this year.