T-Mobile is extending its flagship data center in Prague, Czechia.
The telco this week announced it had started work on a new wing of its DC7 facility in the city's Prague 15 district in "response to high demand" for data center services.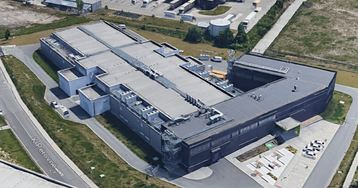 The four new data halls will offer an area of ​​1,400 sqm (15,070 sq ft) and capacity for up to 780 racks, taking the site's total to 3,500 sqm (37,675 sq ft). The expansion will add 3MW of capacity, for a total of 10MW. The company said it would be investing 800 million crowns ($36.8m).
"Demand is huge and capacity is full, which is why we decided to make another significant investment in the expansion of the center and bring modern local facilities to clients from a reliable partner," said Luboš Lukasík, director of the T-Business division at T-Mobile Czech Republic. "Our DC7 offers the highest standard on the market, high operational efficiency, and will also focus on sustainable solutions in the future."
Michal Erlich, manager of data centers and cloud services T-Mobile Czech Republic, added: "We don't invest in data centers just to expand the space we can offer our customers for IT infrastructure. For us, modern and operationally efficient data centers are also a basic building block for the development of value-added services for dedicated, private, hybrid, or multi-cloud solutions."
T-Mobile broke ground on DC7 – unsurprisingly the company's seventh in the city at the time – in 2017 and opened in 2018. Today the company says that as well as three sites in Prague, the company operates facilities in Brno and Ostrava.
The building uses indirect freecooling with adiabatic aftercooling, and operates with a PUE of 1.3. T-Mobile said that the company is working on the preparation of a PV plant directly on the premises.
Existing clients at the facility reportedly include Bank iD, the Czech Land Survey and Cadastral Office, Raiffeisenbank, or the Czech Export Bank.
2021 saw T-Mobile launch a new data center in Warsaw, Poland. The Deutsche Telekom-owned telco said the 4,300 sqm (46,200 sq ft), three-story facility at Szlachecka offers more than 1,700 sqm (18,300 sq ft) of colocation space across eight data halls.
More in Construction & Site Selection