Telecom Egypt has announced plans to install a submarine cable system that runs all the way around the continent of Africa.
HARP, the Hybrid African Ring Path, will connect coastal African countries, along with reliable terrestrial fiber to landlocked nations, and offer services including dark fiber. The system has arms going up the East and West coasts of the continent, entering Europe in Portugal, and at the popular European gateway of Marseille, France, with a branch through Italy.
HARPing on about subsea cables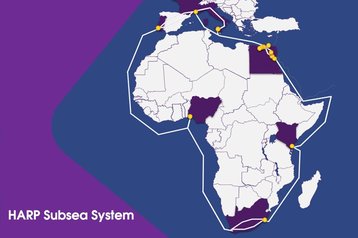 As well as being an acronym, the name also refers to the cable system's shape on the map, according to Telecom Egypt. Built on a layer two and layer three architecture, the system will connect multiple points on the system to each other, with diverse subsea segments that branch to multiple potential landing points.
The planned routes cross the Sinai Peninsula in Egypt, with multiple ring topologies for protection, and will include premium routes on both banks of the Suez Canal. Telecom Egypt will create a new landing point at Sharm Elsheikh at the southern tip of Sinai, connecting to coastal cities on the Gulf of Suez, giving strong hybrid terrestrial and subsea links to multiple sites in Egypt.
"HARP will enable Telecom Egypt's plans to establish open points of presence in various new locations in Africa and Europe to serve its enterprise and wholesale customers," said Adel Hamed, TE's CEO "It will also support the digital transformation efforts exerted throughout African nations, and expand the company's international footprint."
Africa does have fiber links already, but more is always a good thing. PCCW Global has announced that its Pakistan and East Africa Connecting Europe (PEACE) submarine cable will land at Marseille. The first direct cable link from Africa to the Americas came as recently as 2018 when the SACS system connected Luanda in Angola to Fortaleza in Brazil.
Overall, digital infrastructure in Africa is still too concentrated in South Africa, with a recent report from the African Data Centres Association (ADCA) stating that Africa needs 700 new facilities with 1000MW of capacity to level up the rest of the continent to the same standard.