High winds and wildfires have disrupted Internet and mobile services in Maui, Hawaii.
The wildfires, which have so far claimed the lives of 36 people, have knocked out power, toppled telephone poles, and cut off cell and 911 services in parts of the island.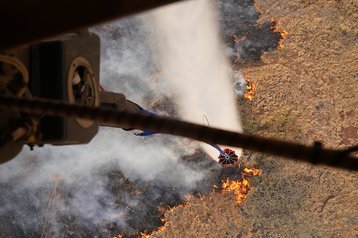 According to outage tracker website, PowerOutage.US, nearly 11,000 people are still without power, as of 04:25 am local time.
A state of emergency has been declared, with thousands of people forced to evacuate their homes, as high winds from Hurricane Dora have made the fires even tougher to control. There's a search and rescue operation underway to find those unaccounted for.
"The fact that we have wildfires in multiple areas as an indirect result of a hurricane is unprecedented; it's something that Hawaii residents and the state have not experienced," Hawaii Lieutenant Governor Sylvia Luke told CNN.
The heavy winds have caused cell towers to topple, while emergency services have also been affected as a direct result.
"911 is down. Cell service is down. Phone service is down. That's been part of the problem. Maui County has not been able to communicate with residents on the west side, the Lahaina side," added Luke.
According to Luke, the island is attempting to deploy individuals to go into areas with satellite phone service, noting that this has been the only way the emergency services have been able to contact some people in the region.
Users on X, formerly known as Twitter, have outlined how Apple's Emergency SOS was the only way that residents could get in contact with first responders.
Power company Hawaii Electric has stated that it's working to restore power to its customers in West and Upcountry Maui.
"We are all hands on deck in supporting and responding to Maui communities affected by the outages, active wildfires, and sustained high wind damage," said Hawaiian Electric spokesperson Shayna Decker. "Our focus right now is the safety of our communities, customers, and workforce and prioritizing power restoration to areas that our crews can safely access."
"We continue to actively monitor the fluid wildfire situation and will move our restoration efforts to other areas if and as they become safe and accessible," she continued. "We appreciate the continued understanding and ask customers to please prepare for possible extended outages as we conduct damage assessments and make extensive repairs."
The company said it has deployed additional crews from Oahu to help with the restoration efforts.
T-Mobile, Verizon, AT&T, HawaiianTel, Mobi, and Spectrum are working to restore mobile services.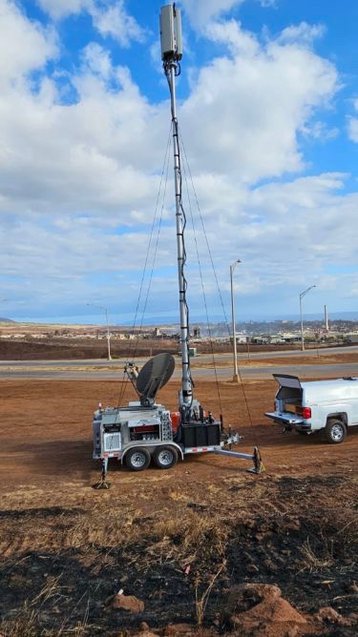 AT&T's response to the fires
AT&T confirmed to DCD that it has sent out its AT&T Network Disaster Recovery (NDR) team and FirstNet Response Operations Group (ROG).
The telco has deployed a portable cell site in Lahaina to provide Band 14 connectivity dedicated to public safety and service for residents.
The carrier confirmed that all its staff on Maui are safe, noting that it has employees on the ground in Maui and additional employees and resources are on the way, plus a Mini CRD (Compact Rapid Deployable), three satellite solutions to provide WiFi or cell service, in-building solutions and an Emergency Response Kit, including 20 FirstNet Ready smartphones and two MiFi devices.
"We are also shipping in back-haul equipment and other portable communications solutions from the neighboring islands. FirstNet ROG – led by former first responders – is working around the clock to support public safety's emergency communications and has liaisons engaged with local and federal agencies," said the company in a statement.
"There are still wireless network impacts in areas directly affected by the fires, primarily in western Maui. Elsewhere on the island where our network is not impacted, we encourage customers to minimize traffic by using text messages as much as possible and to prioritize critical communications."
AT&T has also deployed portable generators to our cell sites affected by power outages, where it is safe to do so, and will continue refueling until power is restored.
AT&T did confirm that some of its cell sites are inaccessible at this time due to the fires but does plan for immediate restoration efforts.
Until August 16, AT&T said it's waiving overage charges to provide unlimited talk, text, and data, while its retail store in Kahului is open and serving customers.