Teraco is investing in a solar farm outside Johannesburg in South Africa.
Local press, including Gadget, reports that Digital Realty-owned Teraco has partnered with the City of Ekurhuleni in eastern Johannesburg to enable wheeling (the passing of energy) from solar farms to its data centers.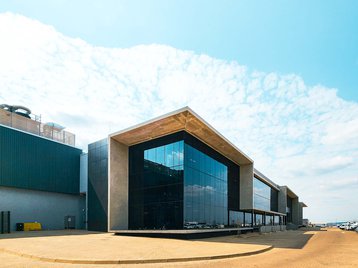 Teraco is investing in one of two 100MW utility-scale solar farms being developed in the Northern Free State to the south of the city, with the data center reportedly close to signing a wheeling agreement with Eskom. The two farms will generate an estimated 500,000 MWh per year once fully operational.
"This is a significant step towards empowering Teraco to meet its renewable energy ambitions and those of our clients," Teraco CEO Jan Hnizdo told Gadget. "It is also an incredible opportunity for other energy-intensive users in Ekurhuleni to meet their near-term renewable energy goals while positioning themselves as manufacturers of green energy-produced goods. And it will also assist in lowering the overall cost of energy supply to industry."
The funding for the solar farms will come partly from a recent $678 million loan the company secured. Timelines for the development of the solar farms were not shared.
"We have set a target to generate half of our power from clean energy sources by 2027, and all of it by 2035," Teraco CFO Samuel Erwin recently said. The company will also be deploying rooftop solar on its facilities.
South Africa's grid has been facing capacity issues for months, seeing regular blackouts and increasingly large requests for load shedding. The load-shedding has hit operators in the country, with MTN suffering from a cooling system failure last year because of the outages.
Founded in 2008, Teraco has eight facilities in operation or development in South Africa across Johannesburg, Cape Town, and Durban totaling 75MW and serving more than 600 customers. The company was acquired by Digital Realty in January 2022, in a deal valued at $3.5 billion.