South African colo and cloud provider Teraco is set to open its fourth facility, The Riverfields Hyperscale Data Centre, just east of Johannesburg, which will be Africa's largest commercial site.
The facility, located in Bredell, Gauteng, was given the go ahead in March 2016 and is expected to be completed in November.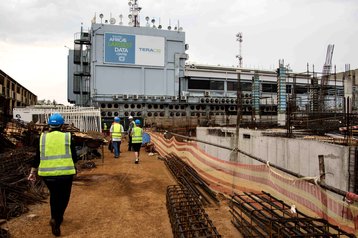 Thinking big
The 6,000 sq m (64,500 sq ft) of whitespace will bring the company's total technical space to 18,000 sq m (193,750 sq ft) across four sites and will give it an extra 24MW of capacity, bumping its overall provision up to 50MW – almost half of the entire continent's capacity.
Teraco's other data centers are located in Isando (also east of Jo'burg, and approximately 10 miles from Bredell), Durban and Cape Town, and all of them are connected to NAPAfrica, the continent's largest Internet Exchange Point (IXP).
Earlier this year, the company received a $90m investment from Barclays Africa Group in view of expanding its footprint on the continent, which it said it would spend on expanding its existing facility in Johannesburg, as well as on the upcoming Riverfields facility.
"Hyperscale computing has grown enormously, as has demand for colocation facilities. These trends combined are shaping the way forward for Africa and we anticipate significant uptake as more service providers pinpoint Africa as a growth market," said Lex van Wyk, CEO of Teraco.