Electric car and energy storage company Tesla has doubled the energy density of its industrial battery product, the Tesla Powerpack, along with its consumer-focused Tesla Powerwall.
The Powerpack 2 has an energy capacity of 200 kWh, with up to 20 of the batteries connected per single Tesla inverter. When multiple inverters are used, the system is, in theory, infinitely scalable.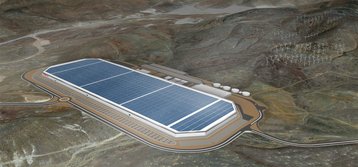 The Tesla touch
Tesla said in a blog post: "With a new energy module and power electronics, Powerpack 2 provides twice the energy density and a more seamless integration into multiple levels of the grid. Powerpack 2 is also now matched with a new inverter, designed by Tesla and manufactured at the Gigafactory.
"It is the lowest cost, highest efficiency and highest power density utility-scale inverter on the market. It also significantly simplifies the installation process of the entire Powerpack system by integrating a number of previously independent components into the inverter itself."
The company called the product a "cost-competitive alternative to other traditional utility infrastructure solutions such as building larger substations, bigger wires and more power plants."
Last year, Amazon Web Services announced plans to trial the Powerpack 1 in a 4.8 MWh test program in AWS's US West (Northern California) Region data center.
Outside of data centers, the Powerpack has found a market with utilities.
After the Aliso Canyon natural gas reservoir spilled 1.6 million pounds of methane, Los Angeles contracted Tesla to provide a 20 MW, 80 MWh Powerpack system at the Southern California Edison substation to prevent rolling blackouts. Once completed later this year, it will be the largest lithium ion battery storage project in the world.
Kaua'i Island, meanwhile, has contracted Tesla to build a 52MWh system, while sister company SolarCity will build a 13MW photovoltaic array.
For domestic use, Tesla has doubled the energy capacity of its Tesla Powerwall, to 14 kWh.