Tesla plans to develop "first of its kind data centers," the company said in a job posting.
The listing, first spotted by Electrek, says that the senior engineering program manager would be "responsible for leading the full design & engineering of Tesla data centers from concept to launch."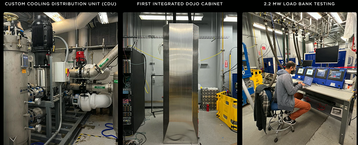 The job is based out of Austin, Texas, where it operates a manufacturing hub known as a 'gigafactory.' The company previously built a data center at its Nevada gigafactory.
The listing does not reveal any other details about what it means by the "first of its kind data centers," and Tesla does not have any corporate communications.
While some Tesla-focused blogs have suggested that Tesla could be planning to build its own data center business, the facilities are likely for internal use. In July, company CEO Elon Musk claimed that Tesla would spend $1 billion over the next year on its Dojo supercomputer, while in 2021 the company revealed it had 10,000 GPUs across three high-performance computing clusters.
In June, Tesla moved into an NTT Global Data Centers facility in Sacramento that was vacated by Musk-owned Twitter/X, and is considering taking over more Twitter space at a nearby Prime Data Centers facility.
The company uses the majority of its compute resources for training self-driving vehicle systems. As part of that, it developed its own custom Dojo D1 chip architecture, optimized for video training.
When Tesla began installing Dojo last year, it claimed it created a fully-custom designed cooling distribution unit to support densities of more than 200kW per cabinet. Those cabinets, it said, were also custom. It has not shared any more details about the designs.
Musk previously said that he might offer Dojo to other businesses as a cloud resource, but has yet to do so.
The company has in the past pitched its Powerpack product as a UPS for the data center, but to limited success. However, Switch will use Tesla Megapacks at the solar farms it uses for its Nevada data center.
More in The Data Center Construction Channel