The City Council in The Dalles voted unanimously for a new deal to supply water to two proposed Google data centers in Wasco County, Oregon.
As part of the deal, Google will invest $28.5 million in expanding the city's water infrastructure by five million gallons a day. The search giant and cloud company will not use all that water, with some left over for locals - but how much is not known.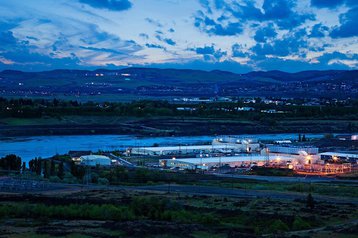 Google has not disclosed how much water its existing data center campus uses, nor how much its new facilities will consume. Local publication The Oregonian tried to find out by asking the city, but it refused to disclose the data.
After the Wasco County District Attorney ruled that the city had to release the information, The Dalles sued the local paper to keep Google's data center water use a secret. The case is still ongoing - with Google contractually obliged to cover the legal costs of the city.
The dearth of public information has concerned locals. "There's a lack of information about projections should the rainfall and snowfall fail to come and the aquifer not be recharged in the wetter winter months," resident Dawn Rasmussen testified, per Oregon Live. She said that her own well water was steadily declining amid climate change-induced droughts.
"What happens if we are in an overall pattern where rainfall is decreasing, decreasing, decreasing?" Rasmussen asked. "Who's going to win that water war?"
The city claims that studies show it would have more water available thanks to its deal with Google, than if it didn't - because the company will transfer some of the water rights associated with its industrial land. The studies are not public.
The Dalles and Wasco also both approved tens of millions in tax breaks for the two new data centers. Google has received more than $240 million in tax breaks on its existing facilities over the past 15 years.