TikTok has announced plans to build a $500 million (€420m) data center in Ireland to store its European users' data, in response to privacy concerns and an escalating trade war between the US and China.
The social media company says all records belonging to users outside China are kept in data centers in the US and Singapore, but President Trump has demanded the Chinese video sharing app sell its US subsidiary or face a ban over claims that it shares data with Chinese authorities. Microsoft is in talks to buy the US subsidiary, as well as operations in Canada, Australia, and New Zealand, but the status of the UK and European operations remains unaffected.
No location has been announced for the Irish data center, TikTok's first in Europe, which the company says will be running by early 2022.
A European presence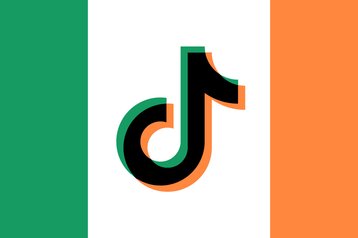 "This investment in Ireland, to the value of approximately €420 million, will create hundreds of new jobs and play a key role in further strengthening the safeguarding and protection of TikTok user data, with a state of the art physical and network security defense system planned around this new operation," said TikTok CSO Raymond Cloutier, in a blog post designed to allay security fears.
"This new regional data center will deliver tangible benefits, including enabling faster loading time that will help our TikTok community to enjoy an even better experience. When our data center is operational, European user data will be stored in this new location."
TikTok's parent ByteDance has denied all charges, saying that users outside China have their data stored in the US and Singapore. Chinese users have a completely separate app called Douyin which does not share data with Chinese authorities, says ByteDance.
The forced sale of its US subsidiaries is an unusual step, as is President Trump's assertion that the US government should get a substantial "cut" as part of an eventual sale to Microsoft. Both may fall outside the power of Trump's executive order, and will be opposed by China, where state-run media have denounced it as a "smash and grab" raid.
TikTok - which claims more than 800 million regular users worldwide - has been developing its European presence for some time, and addressing privacy on the way. It's been operating in the UK for two years, and established its Dublin office as an EMEA "Trust and Safety Hub" earlier in 2020. Last week, on 29 July, TikTok's Irish company took over responsibility for their users' data from the US body TikTok Inc, alongside the UK arm, to become data controller for their respective users.
TikTok in Ireland is now the service provider for all Tiktok users in the European continent, including the EEA and Switzerland. "As part of this development, we are also continuing to grow our data protection and privacy teams," said Cloutier.
Ireland's Industrial Development Agency (IDA) CEO Martin Shanahan welcomed the move: "TikTok's decision to establish its first European data center in Ireland, representing a substantial investment here by the company, is very welcome and, following on from the establishment of its EMEA Trust & Safety Hub in Dublin earlier in the year, positions Ireland as an important location in the company's global operations."
Ireland has had a long history in data privacy issues, including when US authorities were denied access to a Microsoft user's emails held in a data center in Ireland.
TikTok may face a long process of gaining approvals for its site - although past planning debates might actually give it a head start in the process. One possible site TikTok might consider is the Athenry location where Apple hoped to build a data center. After five years of effort and appeals, Apple gained approval for a $1 billion data center on the woodland location, which has permission for buildings totaling 320,000 sq ft (29,729 sq m)., but gave up when (at the time) its Danish building operations seemed to be progressing more smoothly.
The Athenry site, which Apple bought for $15 million in 2019, was put up for sale in October 2019, with "full planning permission."