Tonomus, a digital company part of Saudi Arabia's new Neom city, has launched a data center.
Neom is a project aiming to construct a huge new smart city on the Red Sea coast in the northwestern Saudi province of Tabuk. The Neom company leading the project is wholly owned by the Public Investment Fund, the sovereign wealth fund. Crown Prince Mohammed bin Salman told Bloomberg in October 2018 that Neom will be completed in 2025.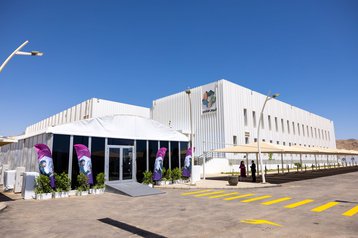 The companies this week announced the inauguration of a digital communications facility in the Octagon, a new industrial area of the city.
Spanning 18,000 sqm (193,750 sq ft) and featuring a two-floor office building, the Tonomus.Neom Telecommunications Center reportedly contains a "high-capacity, highly efficient" data center to facilitate 5G, satellite, and fiber connectivity, and offer private cloud services in the Neom region.
Nadhmi Al-Nasr, CEO of Neom, said: "This center will play a part in realizing our vision for a smart, cutting-edge region that prioritizes livability, where infrastructure and services are designed to give people time back to live their lives to the fullest. It will raise competitiveness in the global ICT industry and support both businesses and individuals who will call Neom home."
Tonomus said the center will power a software-driven network and secure private cloud projected to service up to 60 locations and some 1,800 structures.
Vendors and technology partners on the project include STC solutions, NESMA, Huawei, XFusion, Redington, Comatec, GGC, SARA, RAM, TSS, Fortinet, F5, NEC, PSIM, G2K, Samir Group, Exclusive Networks, and Maxvision.
Joseph Bradley, CEO of Tonomus, said: "The Tonomus.Neom Telecommunications Center will be a powerful catalyst for Neom, supporting secure, near-instant information exchange and fast decision-making across all its sectors. It will also enable predictive intelligence and cognitive solutions to create the sustainable, livable, and equitable future that we aim to make possible in Neom and beyond. The center represents a significant expansion of Tonomus' service portfolio and evidence of our world-leading ability to create infrastructure that fuels innovation and the digital economy."
In October 2021 Neom announced a $500m joint venture with EzdiTek – later named ZeroPointDC – to develop and operate data centers in the new city. EzdiTek has partnered with global engineering and architectural firms RED and Gensler for the project.
The venture will be 51 percent owned by Neom and 49 percent by EzdiTek, and will apparently be located on a floating industrial district known as Oxagon.
Shortly after the original JV announcement, Neom subsidiary Tech & Digital Holding Company announced Oracle would be the first tenant of its hyperscale data centers in the new city.
Neom has also partnered with OneWeb to provide satellite connectivity to the new city.