Toyota Motor Corporation had to shut down its plants in Japan last month when database maintenance work overwhelmed the available disk space.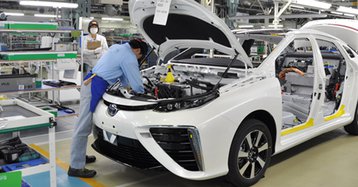 The maintenance works kicked off on August 27, and the plants were not able to resume operations until August 30.
In the incident report, Toyota explained: "During the maintenance procedure, data that had accumulated in the database was deleted and organized, and an error occurred due to insufficient disk space, causing the system to stop."
The same failure reportedly occurred in the backup system which made a switchover impossible. On August 29, data was successfully transferred to a server with a larger capacity.
In total, 14 plants were affected. The company claims it has employed "countermeasures" to avoid this happening again, though does not specify what these measures are.
Toyota said in a follow-up report: "It is our understanding that the malfunction of the system was not caused by a cyberattack. However, we will continue to investigate the cause.
Toyota is a customer of both Amazon Web Services and Microsoft's Azure cloud services, moving a significant proportion of its workloads and applications to the cloud between 2010 and 2016.
Earlier this year, Toyota suffered a major data leak in which around 2.15 million customers in Japan had their personal and vehicle information exposed due to a "cloud misconfiguration."
The company previously had to shut down the same factory operations in 2022 after a supplier, Kojima Industries Corp, suffered a cyberattack.