Data center park developer Tract is planning a large campus outside Richmond, Virginia.
As reported by Richmond BizSense, the Hanover County Planning Commission last week voted last week to defer whether it will vote to recommend the project until January.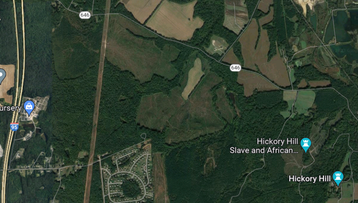 Via Blenheim Associates, Tract is seeking to rezone around 1,212 acres from A-1, Agricultural District, to M-1(c), Limited Industrial District to allow for the development of a data center technology park.
First filed in September 2023, documents suggest up to 46 buildings may be developed on the site, located on the south line of Hickory Hill Road (State Route 646) at its intersection with Old Ridge Road (State Route 738).
Total campus capacity is unclear, but the company is seeking to develop up to eight on-site substations in the park along with multiple battery storage systems. A traffic analysis study assumes development would run until 2043, but Tract's own planned development timelines are unclear.
The company has seemingly not bought the land yet but has it under offer.
Hanover is located north of Richmond, in Hanover County. The site, located in a county economic development zone, is adjacent to several cemeteries and other sites that could be eligible for listing on the National Register of Historic Places, as well as the Washington Lacy Public Park.
After the January recommendation vote, the proposals will go to the Hanover Board of Supervisors for final approval at a later date.
Tract is led by Grant van Rooyen, president of the van Rooyen Group. News of the company surfaced last year – at the time the company had reportedly identified 40,000 acres of potential investment sites, including prospective sites in Eagle Mountain in Utah, and Reno in Nevada.
Colorado-based Tract describes itself as a company that acquires, zones, entitles, and develops master-planned data center parks to provide data center end users. Like Quantum Loophole in Maryland, Tract is aiming to provide massive master-planned technology parks that supply land and infrastructure such as power and water to data center developers which will develop their own campuses within the parks.
Tract says it has real estate holdings throughout the United States. The company recently announced plans for a 2GW, 2,200-acre development in Reno, Nevada.
US data center firm Cologix was founded by the van Rooyen Group and ColCap in 2010. Stonepeak Infrastructure Partners acquired a majority stake in the company in 2017.
More in Construction & Site Selection