Trane Technologies has acquired Italian chiller manufacturer MTA.
The acquisition will see Trane gain ownership of MTA's manufacturing of industrial process cooling, air conditioning, and air treatment equipment.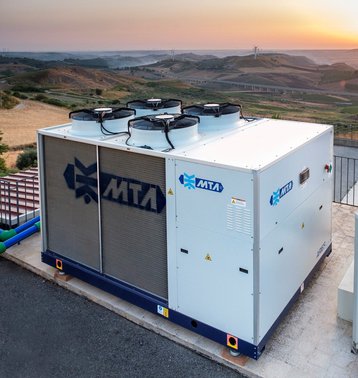 MTA produces water-cooled chillers, condenserless units, and air-cooled liquid chillers for the data center sector, claiming that its free cooling chillers can have up to 45 percent energy saving compared with conventional airconditioning systems.
"We're very excited to welcome our new colleagues and to begin collaborating on new ways we can serve our customers," said Jose La Loggia, president of Commercial HVAC EMEA, Trane Technologies. "MTA's reputation for quality and leading innovation will further strengthen our capabilities to help our customers further decarbonize their operations with sustainable high-performance industrial process cooling, air conditioning, and air treatment."
The acquisition will also see Trane gain around 500 employees, mainly in Europe. MTA's manufacturing sites in Tribano and Conselve, Italy, and its international sales office will also join Trane. At the time of acquisition, MTA's turnover was around $98 million, 80 percent of which was from its exports.
"Trane Technologies is the perfect fit for MTA," said Marco Motton, CEO, MTA. "We share a common purpose – to innovate for our customers and deliver sustainable solutions and superior service. I am excited for our future together."
How MTA's leadership team will be integrated into Trane has not been shared.
MTA was established in 1982, and acquired by European investors Chequers Capital in 2019. The company claims to have a manufacturing capacity of 13,500 systems a year, which Trane hopes will 'strengthen' Trane's commercial HVAC ability.
Trane Technologies is an HVAC company with a focus on creating energy-efficient indoor environments for commercial and residential purposes. In March 2023, the company invested in LiquidStack, a data center immersion cooling company.