Taiwan Semiconductor Manufacturing Co plans to spend $2.8 billion in China to build chips for the automotive sector.
The company is also in talks with the EU about expanding production in Europe, but admitted in its earnings call that it planned to primarily focus on production in Taiwan.
Relief is on the way for car companies, but it is going to take some time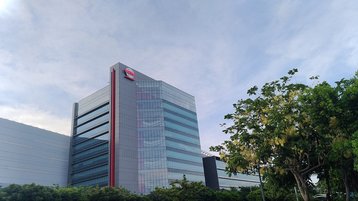 The world's largest third-party chip manufacturer will install new production lines at an existing plant in Nanjing to build 28nm automotive chips.
The investment will be welcome news for the motor sector, which has idled plants due to a widespread global chip shortage.
But the new factory lines will not come online until 2023, along with other investments, which is why the company has warned the semiconductor crisis could last years.
Over in Europe, the EU is attempting to woo the company and build out its domestic manufacturing capabilities - both to avoid future supply crunches, and from a national security perspective.
The European Commissioner responsible for the EU's internal market, Thierry Breton, is set to talk to both Intel and the president of TSMC's Europe division, Maria Marced, this Friday.
Earlier this year, the EU put forward an ambitious $2 trillion plan to recover from its Covid-19 economic decline. Among that is a $150 billion 'Digital Compass' initiative which has, as one of its targets, a goal to produce at least 20 percent of the world's semiconductors (by value) by 2030, up from 10 percent last year.
The US is also trying to win over TSMC, with the company set to build a $12bn plant in Arizona with heavy tax breaks. The nation plans to spend tens of billions to boost domestic chip production.
Mark Liu, chairman of TSMC, has called both efforts "economically unrealistic."
In its earnings call this week, CEO C. C. Wei said that the company "currently have no further fab expansion plan in other areas such as Europe. But we did not rule out any possibility."
This week, Taiwan Economy Minister Wang Mei-hua said that the country will remain TSMC's main hub. "TSMC has said repeatedly that the most advanced technology will definitely be [produced] mainly in Taiwan. As for how Taiwan and the EU can cooperate, companies have their arrangements and considerations, and it can be further discussed."