Twitter suffered an outage for seven hours on Wednesday 28 December, which took place while CEO Elon Musk oversaw an update to the service's backend servers.
Outage monitor DownDetector reported a surge of failure reports which began around 12:00 GMT (16:00 PT), and tailed off over the next three hours. During the outage, Musk tweeted that the service was working for him, and later told users that "significant backend server architecture changes" would make Twitter "feel faster".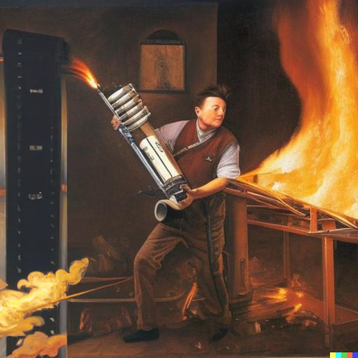 Since Elon Musk bought Twitter for $44 billion in 2022, and took over as CEO in 2022, sources have predicted a major outage would take place, as the new owner fired infrastructure staff, slashed data center and cloud spend, and sparked a flood of employee resignations.
Musk told staff that they should be "extremely hardcore," and pushed through a number of platform changes that caused chaos on the platform, including an $8 subscription that allowed widespread impersonation.
In recent weeks, it has been reported that Twitter is closing its Sacramento data center, and downsizing its facility in Sacramento, leaving it with just two facilities. Back in September, the Sacramento data center failed, causing a system outage. It is not clear if yesterday's outage was caused by the planned data center closure, or preparatory work towards the move.
Alongside Twitter's own facilities, the service is also operating via cloud resouces on Amazon Web Services and Google Cloud, but Musk is understood to be also aiming to reduce spend on these platforms.
In December, Musk launched a Twitter poll asking users to back him as CEO of the company he owns. After 58 percent of voters told him to stand down, the billionaire, who has pledged to comply with the results, suggested he would stay on as head of tech at the troubled platform. The job of managing Musk in such a key role would make life somewhat difficult for any new CEO.
"I will resign as CEO as soon as I find someone foolish enough to take the job!" Musk tweeted. "After that, I will just run the software & servers teams."
During the outage, tens of thousands of users reported they were unable to access the social media platfom, with most problems experienced on computer web browsers, rather than mobile devices. DownDetector counted more than 10,000 reports from the US, 2,500 from Japan and 2,500 from the UK.
During Musk's rule, employees have been fired for criticizing or corrected him publicly on Twitter, and journalists have been censored for tweeting public information about Musk's activities.
Musk gave remaining employees an ultimatum: Agree to work "long hours at high intensity," or leave with three months of pay.
Large numbers quit, including entire critical departments, crippling operations. Ex-staff warned that if the site goes down, there may not be experienced staff around to help bring it back.
Musk also told remaining staff to find $1 billion in cost savings in its data center and cloud infrastructure, including exploring removing servers held for usage spikes. Coincidentally, his acquisition added debt to Twitter that brought its interest payments up to $1bn a year.
Even prior to Musk's acquisition, Twitter had a history of outages, this year alone going down in January, March, July, and September.
A second September outage occurred when California's extreme heat wave caused its data center to shut down.