The UK has switched on what is described as "Europe's largest battery" in Yorkshire.
The Pillswood project, near Hill in East Yorkshire, holds 196MWh of energy, and can deliver 98MW of power, so it could supply 300,000 homes for two hours. It is intended to balance the grid and enable full usage of the output of the Dogger Bank wind farm, a giant project scheduled to eventually deliver 4.8GW of electricity, when it goes live in 2023.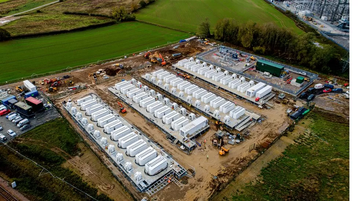 Tesla built the system for Harmony Energy Limited and it is designed to allow the British electricity grid to store renewable energy so peaks of demand can be met with less requirement to use fossil fuel capacity. It's the third battery project built by Tesla for Harmony, and is much bigger than the two previous ones: the 15MWh Holes Bay in Dorset, and the 68MWh Contego project in West Sussex
The Pillswood installation is adjacent to National Grid's Creyke Beck substation, where phases "A" and "B" of the Dogger Bank farm are due to connect to the grid. Without a large storage facility, the National Grid would have to switch off, or "curtail" the wind farm when there is low demand for energy.
Because of the challenges to the UK's energy provision this winter, the project has been accelerated, and switched on before the original schedule of a two-stage activation in December 2022 and March 2023.
The project will operate through Autobidder, an algorithmic trading platform provided by Tesla, which has been previously used in managing existing Harmony Energy battery projects Holes Bay and Contego.
Peter Kavanagh, Harmony Energy Director, said: "The completion and energization of the Pillswood scheme, the largest of its kind in Europe by energy capacity, is a significant milestone for Harmony Energy Income Trust, being the first of six similar projects the Trust intends to deliver in the coming year."
"All stakeholders have recognized the importance of achieving energization for this project ahead of winter, and we would like to thank Tesla, G2 Energy, and Northern Powergrid for their efforts in delivering the project ahead of schedule despite a very challenging geopolitical and global supply chain environment."
Kavanagh added that battery energy storage systems are essential to unlocking the potential of renewable energy, and the project has not required taxpayer subsidy. He said it would "play a major role in contributing to the Net Zero transition, as well as ensuring the future security of the UK's energy supply and reduced reliance on foreign gas imports."