The UK government has bought a ship to convert it to protect subsea fiber and power cables in British water from damage or interference.
First announced in March 2021, in November 2022 the Ministry of Defence confirmed that the purchase of two Multi-Role Ocean Surveillance (MROS) ships would be brought forward. The ship was acquired last month and is set to be handed over to the Royal Navy in the coming days.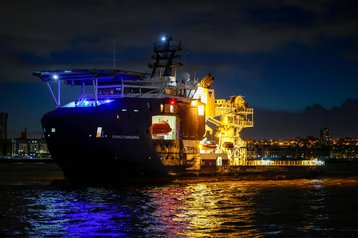 The 98-meter, 6,000-ton vessel, currently known as MV Topaz Tangaroa but set to be renamed (reportedly to RFA Proteus), has now sailed to a port in Liverpool, where the Ministry of Defence and Royal Navy will convert it for military use.
The government said the ship was selected to meet the requirements of the Royal Navy, as it is equipped with a helipad, crane, and large working deck, and features a 'moon pool' to launch submersibles. It was built four years ago to support a mix of underwater operations, including work on oil rigs, construction, maintenance, and inspection work, as well as autonomous submarine operations.
The Topaz Tangaroa recently landed at Cammell Laird in Birkenhead. Once officially handed over to the Royal Navy, the ship will undergo a period of military modification.
The vessel was purchased for £70 Million ($86.5m) from Topaz Marine, a subsidiary of P&O Maritime. It is due to enter operational service this summer, with the acquisition of a second ship currently in the 'concept phase'.
According to NavyLookout, the ship was designed by VARD, with the hull built at the company's Tulcea shipyard in Romania and fitted out at the Brattvaag facility in Norway.
The ships will be operated by the Royal Fleet Auxiliary and will be tasked with protecting subsea cables and pipelines. The ships will have a crew of around 15 and reportedly be equipped with advanced sensors and carry a number of remotely operated and autonomous undersea drones.
Around 60 Royal Navy specialists will operate the undersea surveillance systems and other survey and warfare systems when embarked.
"This is an entirely new mission for the Royal Fleet Auxiliary – and one we relish," Commodore David Eagles RFA, head of the Royal Fleet Auxiliary, said. "We have been entrusted with supporting a key operation to safeguard the UK's infrastructure, security, and prosperity and that fills all of us in the RFA with pride."
Defence Secretary Ben Wallace said: "The first of two dedicated subsea surveillance ships will join the fleet this Summer, bolstering our capabilities and security against threats posed now and into the future."
The National Flagship program, which aimed to deliver a new royal yacht, was suspended to prioritize the delivery of the MROS ships. The royal flagship was to cost £250 million ($308m) and be in the water by 2024/2025.
As subsea fiber and power cables increase in importance, so too have fears about nation-state attacks against such infrastructure in open water. Last year Adm Tony Radakin, the head of the UK's armed forces, warned that Russian submarine activity was threatening subsea infrastructure.
While there have been no confirmed nation-state attacks on subsea cables using submarines, there are known cases of subsea cable communications being monitored, mostly by the US.
In 2017, then-Conservative MP and now UK Prime Minister Rishi Sunak wrote a report for a think tank on the potential dangers of cable sabotage.