Revisions to UK government's 2050 net-zero emissions strategy could increase pressure on the public sector to move to the cloud.
First published in October 2021, the Net Zero Strategy - also known as Build Back Greener, calls for net-zero emissions by 2050 as compared with 1990 levels. The UK government is due to publish its revised version of the strategy in March 2023.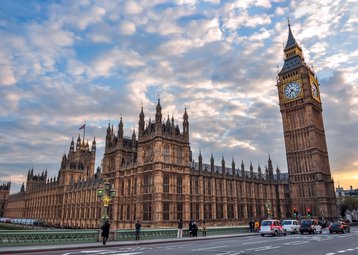 In the original strategy, the government notes the role that power, heating, construction, greenhouse gases, and waste play in carbon emissions. The strategy recommends sustainability-targeted innovation and significant investment in green infrastructure.
Given the power-hungry nature of data centers, it is unsurprising that the industry was impacted by the initial Build Back Greener strategy. However, with revisions coming that are unlikely to lessen regulations, companies will likely need to make a more stringent effort to reduce their carbon footprint.
ComputerWeekly reported that according to digital services provider Kainos this could increase the pressure to ditch on-premise data centers for the public sector.
"The public sector will be expected to lead the way in making tangible and measurable cuts to emissions once the Net-Zero Strategy is published," said Gareth Workman, cloud practice director at Kainos, to the publication. "But many departments still rely on legacy technology, which wasn't built with sustainability in mind.
"There's never been a better time for public sector departments to propel their cloud journeys, especially if they're to meet net-zero demands and demonstrate quantifiable carbon savings."
While the cloud isn't by default a more sustainable option, many of the major providers have made similar net-zero commitments and are moving to 100 percent renewable energy as soon as 2030, including Microsoft and IBM.
Kainos recently oversaw the migration of legacy systems used by Companies House, a governmental agency that maintains the register of companies, to the cloud. According to the company, this enabled the entity to cut its carbon emissions by 94 percent.
Public sector companies in the UK can buy cloud-based computing services via the G-Cloud 13 platform which was updated in November 2022. The platform has a series of framework agreements with cloud service providers and is designed to make procurement easier for government agencies.