African telecommunications group Liquid Telecom, a subsidiary of Econet, has received $180 million in funding from a UK government agency to build a fiber network in central and western Africa.
The money comes from CDC Group (formerly the Commonwealth Development Corporation), a development finance institution owned by the UK government, and marks one of its largest ever investments.
Common wealth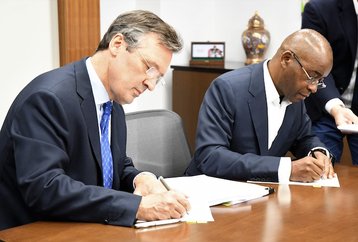 Liquid Telecom provides colocation capacity through its data center arm, Africa Data Centres, and runs Africa's most extensive fiber optic network, stretching from Cape Town, through all the Southern, Central, and Eastern African countries, through to Sudan and Egypt.
The company said the money will help accelerate the expansion of its network infrastructure, helping connect some of the continent's most remote regions.
"Our vision is to give every individual on the African continent the right to be connected by bringing reliable, high-speed broadband connectivity and cloud services to all. This includes businesses and communities in some of the most remote parts of the continent," said Nic Rudnick, Group CEO at Liquid Telecom.
"We welcome CDC Group's investment of $180m with Liquid Telecom since it will enable us to accelerate expansion along our award-winning Cape-to-Cairo route and further into Central and Western Africa.
"Once completed, it will bring significant economic and social benefits – from providing access to online educational resources to supporting national economies, creating more jobs and driving the adoption of new technologies."
"Digital infrastructure is still a major problem for Africa's governments, people and its businesses, so improving access to affordable and quality internet is central to Africa's development and economic growth," added Nick O'Donohoe, CEO of the CDC Group.
Earlier this year, Liquid Telecom announced it would spend $400 million over the next three years to improve its network and data centers in Egypt.