The UK government, in coordination with Church of England, is planning to install telecoms equipment on church spires accross the country to improve rural broadband connectivity.
The agreement was reached at a roundtable meeting with Church of England Bishops in St Albans in December last year, chaired by Matt Hancock, the Minister for Digital, Culture, Media and Sport (DCMS), and Lord Gardiner, the Minister for Rural Affairs and Biosecurity.
Wireless transmitters, aerials, satellite dishes, and fiber cables will be set up on spires in England, Wales, Scotland and Northern Ireland, effectively turning them into cell towers, based on "varying terrain and different community needs."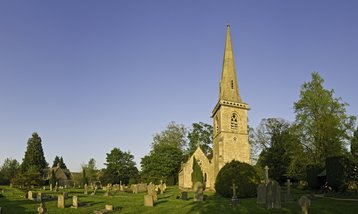 God's many country houses 
According to the British government, 65 percent of Anglican churches and 66 percent of parishes in England are located in rural areas, where church spires are commonly the tallest structures.
Matt Hancock said that "churches are central features and valued assets for local communities up and down the country.
"This agreement with the Church of England will mean that even a 15th century building can help make Britain fit for the future improving people's lives by boosting connectivity in some of our hardest-to-reach areas."
The Bishop of Chelmsford, Rt Revd Stephen Cottrell, called the accord a "natural extension of great work already occurring," stating that "many churches already help people access the Internet and provide digital skills training."
"We know that rural churches in particular have always served as a hub for their communities. Encouraging churches to improve connectivity will help tackle two of the biggest issues rural areas face - isolation and sustainability," he added.
The practice already takes place at some 120 British churches and elsewhere around the world, as spotted by a Twitter user in Portland, Oregon, USA:
YO this church steeple retrofitted to be a cell tower is THE most cyberpunk thing I've seen in MONTHS pic.twitter.com/cAzEysWIyF

— Steve Gaynor (@fullbright) September 26, 2017
Bridging the connectivity divide
Although according to the Office of National Statistics (ONS), 90 percent of households in Great Britain (which, like the UK, is a union of England, Scotland and Wales, but, unlike the UK, excludes Northern Ireland) had an Internet connection in 2017, up from only 57 percent in 2006,  there are still large disparities in terms of connectivity between urban and rural areas.
Last year, the ONS found that mobile users in the most rural areas of the union had access to 4G only 35 percent of the time, as opposed to almost 70 percent of the time for Londoners.
Similar to the country's wealth divide, the difference in connectivity is more prominent between southeastern England (including London) and the rest of Great Britain, though Scotland has seen the biggest improvement on this front, reaching 90 percent penetration last year.
Despite being one of the world's richest nations, at the end of last year the UK's full fiber connectivity was trailing behind 19 other countries (France, Germany, Italy, the US, Japan, Australia, Spain, Sweden, Holland, Poland, South Korea, Brazil, Russia, India, China and Nigeria, Portugal and New Zealand), according to the UK's communications regulator Ofcom, with just 3 percent penetration nationwide.
Connectivity will have to be significantly improved before 5G technology can be rolled out, with Digital Minister Matt Hancock having declared his intention to make the UK "one of the first" users of 5G. Ofcom has begun auctioning the relevant mobile spectrum. 
5G is not compatible with the current generation of devices, but the technology will enable operators to develop new types of services.