The UK's Loughborough University has completed an upgrade project for its two data centers in Leicestershire.
Schneider Electric this week announced it had delivered a data center modernization project for the East Midlands-based university in collaboration with its services provider partner on365.
The project saw Schneider Electric and on365 modernize the university's IT infrastructure at its Haslegrave and Holywell Park data centers with new technologies, including an EcoStruxure Row Data Center, InRow Cooling solution, Galaxy VS UPS, and EcoStruxure IT software.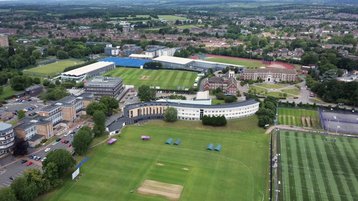 Established in 1909 and based in the Leicestershire town of Loughborough, Loughborough University is ranked world number one for sports-related subjects. The university has around 19,500 students across its 523-acre campus.
The university has two primary data centers that act as a failover to one another; its older Haslegrave site, constructed in the 1950s, and a newer facility named Holywell Park, which became operational in 2010.
Delivered in two phases, the project saw on365 first modernize the Haslegrave facility by replacing an aging raised floor that was unstable in places and deploying an EcoStruxure Row Data Center solution. The company also deployed InRow DX (direct expansion) units to deliver improved cooling reliability and provide the university with a greater ability to cope with unplanned weather events, including heat waves, which had adversely affected its IT and cooling operations during the UK's 2022 summer heatwave.
"During that period, the chillers broke down," said Mark Newall, IT specialist at the University of Loughborough. "Fortunately, most of the campus was on holiday. The cooling system wasn't designed for those sorts of conditions, there weren't dual chilled water circuits or chillers. We'd built the data center to be resilient with no single point of failure, but that strategy was impacted as we had no control over the fabric of the room, which included the external systems supporting the air conditioning."
Legacy UPSs were replaced with Schneider's Galaxy VS UPS with lithium-ion batteries. Use of the EcoStruxure Row Data Center solution also created new space for future IT expansions and extended a 'no single points of failure' design throughout the facility. The solution was replicated at the Holywell Park site thereafter.
"At the foundational level of everything which is data-driven at the university, the Haslegrave and Holywell data centers are the power behind a host of advancements in sports science, and our transition towards a more sustainable operation," said Newall. "Working with Schneider Electric and on365 has enabled our data center to become more efficient, effective, and resilient."
In 2021, Loughborough University deployed a new Lenovo-based supercomputer to replace its existing 11-year-old cluster. Last year the education provider filed to build a new data & energy hub on the campus that would replace a small grassy mound used for car parking with a small single-story building filled with heat pumps and servers for a campus district heating network.
"Having a well-structured preventative maintenance program is vital to ensure that the data center and IT systems are optimized and operationally efficient," said Carl Richardson, technology support manager, on365. "At on365, we've continued to collaborate closely with the university, not only to provide them with significant value, but to ensure they can meet their strict procurement governance whilst having access to our extensive support and services capabilities."
"As a passionate advocate for sports and academia, I'm proud to see this complex project delivered successfully with our partners at on365," added Mark Yeeles, VP, of secure power division, Schneider Electric, UK and Ireland. "Loughborough has a prestigious reputation and prides itself on its students' experience. Through its EcoStruxure Data Center Solution, Schneider Electric will have played an important part in future-proofing its critical infrastructure, helping improve the reliability and sustainability of its IT operations."