A $600 million data center project in Lincoln, Nebraska has cleared a regulatory hurdle and can now move forward.
A 24 million square foot plot of land has been rezoned from an agricultural site to an industrial one, for a data center proposed by Agate LLC.
Agate is a shell company representing a larger client who has made efforts to keep its identity concealed. Agate is registered Corporation Service Company, a Delaware-based business, legal, and financial services provider.
Agate who?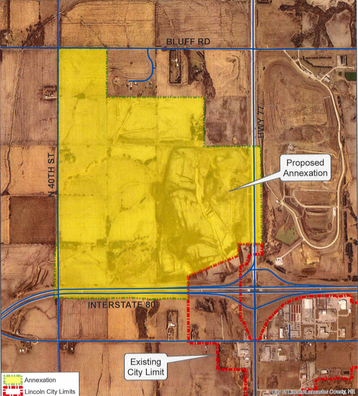 Documents for the proposal show that the site will be developed into a data center with a maximum floor space of two million square feet. The contact on the planning documents is Des Moines-based attorney Bridget O'Malley Kausky. DCD has reached out to her office for comment.
Lincoln city officials will discuss the project today in a meeting to decide whether the data center will block the view of the capitol building. After that, the data center would still need to clear other regulatory hurdles including a public hearing at some point next month.
Speaking to 1011, Pat Haverty, VP for the public-private group Lincoln Partnership for Economic Development, said: "The company came to us some time ago with an idea of different sites around the community, [the company] finally landed on this site here and we've been working through the due diligence of this site."
The true corporate interests behind Agate are not known. One potential company is Google, which regularly spends $600m on its data centers, and uses CSC to obscure its identity. Earlier this year, the company said that it will invest $13 billion in data centers across the US during 2019, including Nebraska.
So far the tech giant has announced a Texas data center and broken ground on a 750,000 square foot facility in Henderson, Nevada which is expected to come online in 2020.
Last year Google negotiated tax breaks for a $600 million data center in New Albany, Ohio under the pseudonym of Montauk Innovations LLC. The Ohio Tax Credit Authority approved a 100 percent, 15-year data center sales tax exemption, with the option for it to be renewed for up to 40 years through October 30, 2058. The deal is thought to be worth $43.5 million over the life of the tax credit.
DCD has contacted Google for comment and will update this story if we hear more.