The Uptime Institute has launched the Data Center Career Pathfinder, a free online tool that lists career opportunities within the digital infrastructure industry.
The service lists more than 230 different types of job roles that span the design, build, and operation of data centers, ranging from sustainability strategy to construction. Each role includes minimum education requirements and key competencies, such as communication, problem-solving or critical thinking.
Rhonda Ascierto, Vice President of research at Uptime Institute, said: "The data center industry is one of the fastest-growing markets on the planet and offers a wide variety of job roles, yet far too many people are unaware of the career opportunities within it."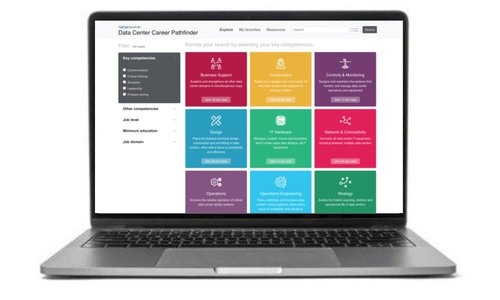 The tool has been made with support from Google, Meta, and Microsoft. The Career Pathfinder aims to increase the transparency of the data center industry and reach out to people from all kinds of backgrounds.
The resource covers the spectrum of roles needed in data centers, and will provide information for students and job seekers about the data center industry.
Wendy Peterson, program manager, Google Data Center Workforce Development, said: "We are frequently asked for input on how to direct job seekers in our communities to more information about possible career paths supporting data centers, so I am pleased that we can share the Uptime Institute Career Pathfinder to continue the mission to demystify data center careers and drive more talent into the industry."
"At Microsoft, our mission is to empower every person and every organization on the planet to achieve more. The Career Pathfinder will help job seekers from all parts of the area discover and build data center careers, empowering them to explore new opportunities," added Bob Reitinger, Microsoft Datacenter Community Workforce Development lead.
Demand in the data center industry is growing, and with this comes the need for a growing workforce. Research conducted by the Uptime Institute found in the 2021 Global Data Center Survey of IT and data center managers, that 47 percent of respondents reported having difficulty finding qualified candidates for jobs, an increase from 38 percent in 2018.
"The data center industry is full of opportunity across a wide range of expertise and skills. We hope the Career Pathfinder will help us reach and attract new diverse talent into this growing industry," said Darcy Nothnagle, Director of Community and Economic Development at Meta.
This latest launch comes a month after the announcement of Uptime Institute's Standardized, Comprehensive Infrastructure Risk Assessment for Financial Sector Institutions (SCIRA-FSI), a service that assesses banks' critical IT environments.
More in Workforce & Skills