SpaceX's Starlink satellite unit is being paid by the US government to provide equipment and services to Ukrainian forces.
Bloomberg and DefenseScoop report the Pentagon is buying Starlink satellite communications terminals and services from SpaceX for use by the Ukraine military.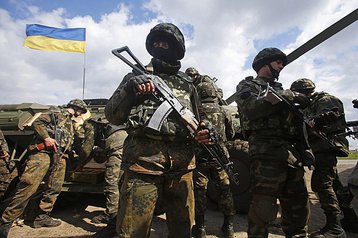 The terminals will likely be purchased under the Ukraine Security Assistance Initiative, and come a week after President Biden announced an additional $300 million in Department of Defense support for Ukraine.
In December, the Defense Department disclosed a funding package that it would provide satellite communications "terminals and services" to Ukraine, though didn't provide details.
"We continue to work with a range of global partners to ensure Ukraine has the resilient satellite and communication capabilities they need," the Pentagon said in a statement last week. "Satellite communications constitute a vital layer in Ukraine's overall communications network and the department contracts with Starlink for services of this type."
"However, for operational security reasons and due to the critical nature of these systems, we do not have additional information regarding specific capabilities, contracts, or partners to provide at this time," it said.
In the wake of Russia's invasion of Ukraine last year, thousands of Starlink terminals were given to Ukraine, some of which were paid by the US government and other governments.
In October of last year, Musk said that SpaceX could not afford to "indefinitely" continue its support of providing Starlink terminals to the country, claiming that it would exceed $100 million in costs by the end of 2022.
He instead asked the US government to fund the supply of Starlink terminals. However, following a lot of pushback, Musk reversed these calls and tweeted that his company would continue funding this.
European countries have since pledged thousands more Starlink terminals to Ukraine.
Starlink recently launched in Mozambique and has gained licenses to operate in Costa Rica and Trinidad & Tobago.
Greek ship manager Polembros Shipping has announced it will trial Starlink services on its tanker ships in partnership with service provider Marlink.
In other satellite news:
- Hubble Network has closed a $20m Series A funding round. The company plans to create a 300-strong fleet Bluetooth satellite constellation, allowing Bluetooth-enabled devices to connect to the network.
The round was led by Transpose Platform with additional participation from 11.2 Capital, Y Combinator, Yes.VC, Convective Capital, Seraphim Space, Type One Ventures, Soma, AVCF5, Space.VC, Jett McCandless, John Kim, Chris Nguyen, Alan Keating, and Don Dodge.
The funding reportedly provides the capital necessary to launch the company's first series of satellites and onboard its initial pilot customers. The first four satellites are due for launch in Q2 2024.
- Telesat has ordered a demonstration satellite for its planned Lightspeed LEO constellation. The company has ordered the LEO 3 unit from Space Flight Laboratory and will be based on the manufacturer's Defiant platform.
- An appeal has been lodged for a previously dismissed insider trading case against Intelsat. The case revolves around alleged insider trading and the sale of Intelsat shares by certain shareholders. The case was originally dismissed in April.
- Satellite Earth-imagining firm Pixxel has closed a $36 million Series B funding round led by Google.
The new funds will bolster Pixxel's plans to launch 6 satellites in 2024 and 18 other satellites by 2025. As well as Google, existing investors Radical Ventures, Lightspeed, Blume Ventures, growx, Sparta, and Athera joined the round. The company has raised $71 million in total.