An undisclosed US hyperscale company plans to build a huge data center in Zeewolde, Flevoland, in central Netherlands.
Built in phases over five to eight years, the facility is expected to span five data halls and consume 200MW. Work begins this month on a temporary access road, ahead of wider construction work later this year.
Conquering Zeeworlde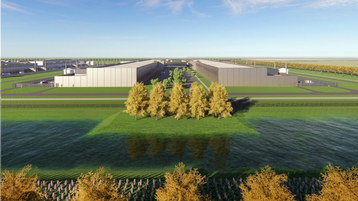 This week, the Zeewolde municipality presented plans for the data center complex.
Coordinating alderman Egge Jan de Jonge of Economic Affairs said that the 166-hectare development at Trekkersveld IV (Tractor field IV) would lead to around 410 jobs for the area.
Planning documents reveal the hyperscale data center will have a minimum size of 175,000-250,000 sq m (1,884,000-2,700,000 sq ft), and will primarily rely on air cooling.
During hot periods, the facility will turn to water cooling. The data center company plans to mostly use surface water, and will build water storage features on site.
Waste heat reuse is planned, with an unidentified third party set to install the necessary infrastructure. It is not yet clear what this heat will be used for (it is still being studied) but greenhouses may be a possibility in the Netherlands.
DCD was unable to confirm the identity of the company behind the project. Local paper AD notes that in discussions with farmers, US-based representatives only used their first names in video calls to make identification difficult. The same publication speculated Facebook may be building the data center, but only because the project's entrance road appears similar to other Facebook data centers.
The data center is being built just a few hundred meters from the upcoming 322MW Windpark Zeewolde windfarm. The operator has pledged to run the facility via 100 percent renewable energy, but it is not clear if they will sign a PPA with the nearby windfarm.
There are currently four wind turbines on the site that will become the data center, but they will be removed, and replaced with larger ones nearby.
The site will take five to seven years to build, and will employ 1000 to 1200 during this time. After that, there will be just over 400 continuing jobs. "Data centers like these help create the jobs of the future in a growing industry," said Alderman Egge Jan de Jonge.
Elsewhere in the Netherlands, Microsoft and Google operate data centers in Middenmeer, which were both developed with a level of anonymity, and saw local pushback. A Microsoft expansion is currently being protested by local farmers.
Google also operates a data center in Eemshaven, Groningen.