The US National Oceanic and Atmospheric Administration (NOAA) is expanding its Weather and Climate Operational Supercomputing System (WCOSS) computing power by 20 percent.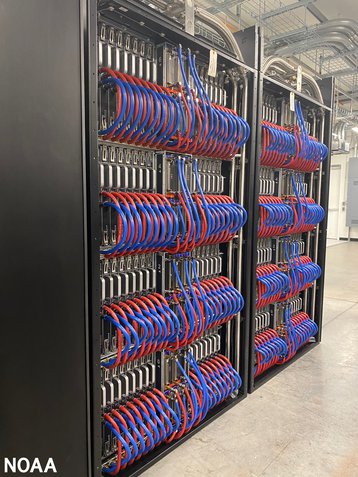 WCOSS is made up of several high-performance computing (HPC) systems. The two set to receive upgrades are Dogwood, located in Manassas, Virginia, and Cactus, located in Phoenix, Arizona, both of which were launched in July 2022 and will now have computing power of 14.5 petaflops each. These HPC systems, along with NOAA's other supercomputers in Virginia, Tennessee, Mississippi, and Colorado, give NOAA a total computational capability of 49 petaflops.
The expansion will enable the supercomputers to handle 29 quadrillion calculations per second and is hoped to improve their ability to create complex forecast models.
The US's Global Forecast System (GFS) is currently about to create forecast models at 13km of resolution. With the upgrade, this is planned to be reduced to nine kilometers. The expansion will also see a new Rapid Refresh Forecast System which is hoped to enable larger ensembles with more data included. The upgrade is also hoped to bring improvements in predicting wildfire smoke, dust, and fog.
"Our investment in high-performance computing will pay off with better US weather modeling," said Michael Morgan, Ph.D., assistant secretary of commerce for environmental observation and prediction. "Forecast model upgrades made possible by this increased computing capacity will bring improved and timely forecasts and warnings that better protect life and property."
"This increased supercomputing power allows for upgrades to specific modeling systems that will help weather forecasters deliver more accurate weather forecasts, watches and warnings, and improved certainty in a forecast," said Ken Graham, director of NOAA's National Weather Service.
WCOSS was first launched in June 2022. Since then, over 20 operations weather prediction models are run on WCOSS, with a Hurricane Analysis and Forecast System starting last month.
Dogwood and Cactus were both contracted with General Dynamics Information Technology (GDIT) which was responsible for the acquisition, upgrade, and products and services for the HPC system in an eight-year agreement.