Vantage Data Centers has launched three new data centers in Germany.
The company this week announced the delivery of three new facilities in Berlin and Frankfurt, expanding its footprint in the country by 72MW and 740,000 sq ft (68,750 sqm).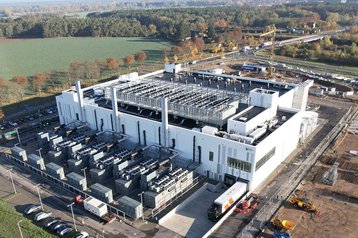 In Berlin, Vantage has opened a second data center on its 25-acre Berlin I campus. The two-story, 130,000 sq ft (12,000 sqm) facility offers 16MW of IT capacity. Once fully developed, the expanding campus will include four data centers totaling 56MW and 474,000 sq ft (44,000 sqm).
The company broke ground on its first Berlin I facility in 2021 and launched the first data center earlier this year.
On its other campus in the German capital, the company has delivered the first data center on its Berlin II site in Mittenwalde. The data center is a two-story facility with 16MW of IT capacity.
The company broke ground at the site in late 2021. At full build-out, the 12-acre campus will include two facilities totaling 32MW and 260,000 sq ft (24,000 sqm).
In Frankfurt, Vantage has completed the first data center on its Frankfurt II campus. The four-story facility offers 40MW across 350,000 sq ft (33,000 sqm). Vantage broke ground on the first facility in Raunheim in late 2021; The company broke ground on the second facility at Frankfurt II in July.
The company is also continuing to develop its first 55MW Frankfurt campus, located in Offenbach. It recently began work on the second of three buildings on the site. After breaking ground in 2018, the original Frankfurt facility was acquired from Etix Everywhere while under development and opened in 2020.
"Vantage has experienced rapid growth over the past three years as we continue to construct world-class data center campuses across EMEA," said Antoine Boniface, president, EMEA at Vantage Data Centers. "Since we first entered the market in 2020, we have been investing in the highly developed country of Germany, the financial powerhouse of the European Union and the most desired data center market anywhere in Europe due to its growing use of cloud computing, high-speed Internet penetration, and data sovereignty laws. We have taken critical steps to not only drive growth and development to meet the needs of our customers, but to build partnerships within local communities and create meaningful job opportunities for the local citizens."
Vantage also announced it was to open a new business office in Raunheim close to the Frankfurt II site.
"The data center industry provides services that are indispensable for a digital and sustainable future," said Thomas Jühe, mayor, of the City of Raunheim. "The fact that Vantage Data Centers is now opening its administrative site in Raunheim, in addition to operating data centers and its committed energy partnership with the city, makes us all the more pleased."
More in Construction & Site Selection