Vantage Data Centers is to power some of its UK and US diesel generators with biofuel.
Hydrotreated vegetable oil (HVO) is a recently-developed low-emission biofuel that promises high performance without the need to replace or customize diesel gen-sets.
The company last week announced it will roll out HVO in 'several' of its largest markets in North America and EMEA.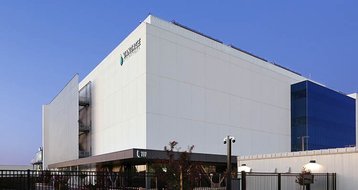 The data center firm initially deployed HVO at its campus in Cardiff, Wales, in 2022 as a pilot project.
"Given the success of the pilot, Vantage officially implemented HVO at its newest facility, CWL13, on the Cardiff campus and is currently working to deploy the renewable fuel throughout the rest of the campus," the company said. "In addition, Vantage will deploy HVO in one of its North American flagship markets, Santa Clara, California, by the end of the year."
Vantage said it was planning further deployments in additional markets, "subject to fuel availability."
"Making the switch to renewable diesel is one of the many ways we are reducing the carbon emissions of our operations. Reaching net zero by 2030 is an incredibly ambitious goal that will require us to implement a wide variety of solutions. Our focus is on maintaining reliability and affordability while achieving emissions reductions," said Amanda Abell, senior director of sustainability at Vantage. "We look forward to continuing the rollout of HVO at our campuses across North America and EMEA, where available, in addition to the other programs we have in place to reach our sustainability targets."
HVO is a synthetic paraffinic diesel, made from vegetable oils or waste, reprocessed with added hydrogen. Unlike previous biofuels, it is a drop-in replacement fuel that can be used without modifications to existing engines.
"Vantage is working with industry through the Data Center Coalition to accelerate the viability and use of renewable diesel fuels," said Mark Freeman, vice president, global marketing and public policy at Vantage. "By collaborating and sharing information with peers, it helps the entire sector move faster. It is our hope that through partnerships we can convince policymakers, stakeholders, and supply chains of the HVO benefits and enlist their help in achieving the widespread production and distribution of the renewable fuel in markets that lack reliable, cost-effective, and timely access today."
A number of companies are looking to diesel alternatives as a way to reduce their carbon footprint and green their backup operations.
Amazon has adopted the fuel in Ireland and Sweden.
UK operators Kao and Datum, Compass in the US, as well as Belgium's LCL, and Latvia's DEAC are all looking to adopt HVO as fuel for their backup generators.
Digital Realty's French unit has also adopted HVO for its new PAR8 site in Paris. The company is also deploying HVO in Madrid, Spain, and plans to expand its use across the continent in the near future.
Pure is also a HVO user, while Equinix has said it is doing a trial with the fuel.
Kohler has swapped diesel for HVO at its Brest generator manufacturing plant in France, totaling some 325,000 liters.
Vantage also said it was installing active emissions control systems known as Selective Catalytic Reductions (SCRs) on generators in some markets. SCRs can reduce nitrogen oxide emitted from diesel generators by up to 90 percent, and have been installed at Vantage's Warsaw, Berlin, Frankfurt, and California campuses, with additional installations planned for the future.