Austin-based startup Vapor IO and cloud provider Packet have opened two edge data centers in Chicago – near Wrigley Field and O'Hare Airport - and are hoping to build more.
Both facilities follow a proprietary architectural design called the Kinetic Edge, combining several small facilities into a single virtual data center with multiple availability zones.
They are also part of the Kinetic Edge Alliance – an initiative announced earlier this month that aims to build a network of interoperable edge facilities.
In addition, Packet has announced an Edge Access Program that offers customers free access to bare metal servers in Kinetic Edge locations.
"Together with Vapor IO, we're committed to creating an edge computing ecosystem that is both vibrant and fast-moving," said Zac Smith, CEO at Packet.
"Initiatives like the KEA and our own Edge Access Program are promoting collaboration and encouraging access from the very start, helping to activate an entirely new industry that will power the experiences of tomorrow."
Edge, manifested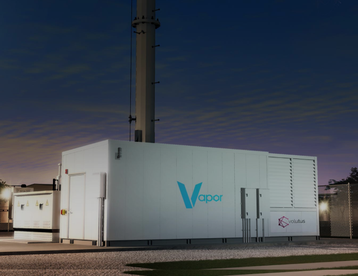 Vapor IO has gone through several evolutionary stages: it was established in 2015 to market the Vapor Chamber, a proprietary circular rack system intended to simplify data center construction and improve efficiency.
To drive the Vapor Chamber, Vapor IO created OpenDCRE, an open source software project for API-based data center management that was later commercialized by the company as Synse.
After agreeing a partnership with telecommunications specialist Crown Castle, Vapor IO started offering edge colocation using its own equipment, placed underneath mobile base stations.
The company's latest product is the Kinetic Edge – a software architecture to support deployments of the Vapor Chamber and its derivatives across wide geographic areas; the company hopes to deploy more than 100 Kinetic Edge systems by 2020.
Meanwhile, the Kinetic Edge Alliance aims to establish a network of such small data centers at mobile base stations, looking to take advantage of upcoming 5G deployments and the resulting interplay between cellular and fiber connectivity.
This week, Vapor IO announced the first two Kinetic Edge locations in Chicago: Wrigley Hub (ORD1) and Edens Hub (ORD2). The former is located about a mile from Wrigley Field, home of the Chicago Cubs, while the latter is installed near O'Hare International. Both sites offer 150kW of power capacity and can be operated remotely using Vapor IO's software.
"We're excited to see our first production Kinetic Edge customers go online and we see Packet's Edge Access Program as a way to unlock edge computing at scale, starting in our flagship Kinetic Edge city, Chicago," said Cole Crawford, founder and CEO of Vapor IO.