Vapor IO has expanded its Kinetic Grid Edge computing platform to Europe through a partnership with the Spanish telco Cellnex Telecom.
Cellnex will host the Kinetic Grid platform on its fiber optic network in Barcelona, connecting to Vapor's existing grid in the US. Other European cities will follow, using Cellnex's network of data centers and tower ground space.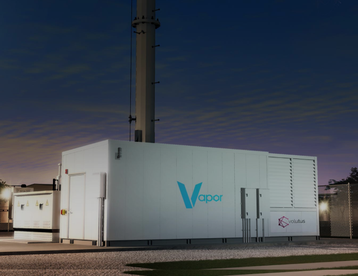 Vapor launched its Kinetic Grid Edge platform, in the US in June 2021, with a partnership with network provider Zayo. It was subsequently rolled into 32 US markets, and is now available in 36.
The platform links data centers to a platform that supports applications close to users and data sources, making distributed Edge applications faster and more reliable, and minimizing traffic toward the core of the network. The platform makes use of VMware's Telco Cloud platform to provide a multi-cloud grid. The system prioritizes applications that need low latency and adapts to local infrastructure failures.
Edge is proposed for applications such as retail, the Internet of Things, VR, and smart transport. For the European launch, Vapor is also emphasizing that localized data can also satisfy "data sovereignty" requirements, where some states demand that their citizens' data be kept within their borders. The project will also enable the efficient deployment of virtualized radio access network technology (Open RAN or vRAN), Vapor promises.
"We invite our anchor tenants and global telecom service providers to leverage this partnership to virtualize the computing infrastructure in such a way that it will allow the federation and optimization of the use of computing resources and of the network itself by third-party applications on a neutral host model," said Eduardo Fichmann, global director of innovation and product strategy at Cellnex.
Fichmann said that Cellnex has a strategy of co-locating infrastructure and operator equipment at towers or Edge data centers: "It is expected that in the coming years, there will be an explosion in applications and services that require computing in places physically closer to the end user, which implies an increase in the demand for this type of infrastructure."
"Vapor IO's Kinetic Grid is both cloud-neutral and carrier-neutral, meaning it is one of the few locations at the Edge where both carriers and clouds can meet on equal terms," said Cole Crawford, Vapor IO´s Founder and CEO.