Swedish energy company Vattenfall has partnered with Cloud&Heat Technologies for a pilot project to establish a data center at a biomass plant outside Stockholm.
The state-owned energy firm and the German eco-data center company have installed two data center containers at Vattenfall's biomass-fired district heating plant in Jordbro, south of Stockholm.
The project was first announced in March 2020; the test system will use two of Dresden-based Cloud&Heat's liquid-cooled 20-foot containers equipped with 1,600 high-performance graphics cards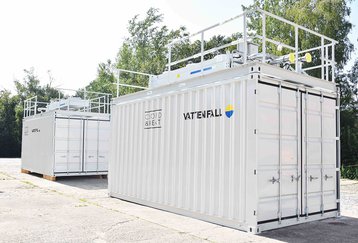 "The demand for high-performance and low-cost computing capacity is increasing rapidly, especially for Internet of Things & Artificial Intelligence applications. Our new data center at our pilot site in Sweden is ready for operation for customers expecting cost-efficient, reliable, and fossil-free computing capacity," said Birger Ober, project manager at Vattenfall.
The facility will draw power from the combined heat and power (CHP) biomass plant and send excess heat to the local district heating network. The containers will offer Cloud&Heat's Machine-Learning/Artificial intelligence stack.
"Cloud&Heat Technologies provides energy-efficient, scalable, and secure tailored high-density infrastructure solutions, which meet the requirements of the future. Vattenfall's expertise and Cloud&Heat's technology allowed the erection of a water-cooled data center that emits zero CO2 during its operation and in addition, is directly integrated in Vattenfall's heat network for direct heat reuse," added Dr.Jens Struckmeier, CTO at Cloud&Heat Technologies.
Cloud&Heat has partnered with Norwegian firm Earth Wind & Power (EWP) to develop HPC infrastructure sited at energy sites and pipelines.