Vertiv (formerly Emerson Network Power) has launched a new, more efficient version of its Liebert PCW chilled water cooling system for data centers.
The new models enable better cooling in warmer climates, by lowering the temperature of water delivered by the system. Vertiv claims this approach helps achieve partial Power Usage Effectiveness (pPUE) of less than 1.1.
Updated cooling systems are available immediately in Europe, the Middle East, Africa, Asia Pacific and South America.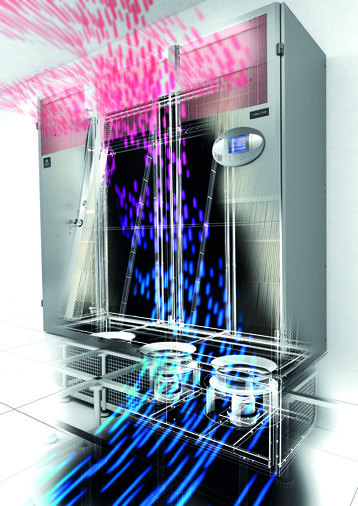 Ice cold
Efficiency of chilled water systems is largely determined by 'Delta T' – the difference between the inlet and outlet water temperatures. The new Liebert PCW delivers higher chilled water Delta T, which enables owners to maximize freecooling operations at high temperatures.
The system has been optimized for water regimes of 20-32°C, and supply air temperatures within the latest ASHRAE envelopes. It is managed by the integrated Vertiv ICOM software, which can automatically adjust the airflow to the servers' needs. The system also features remote diagnostics and preventive monitoring, delivered through Vertiv LIFE Services.
The Liebert PCW range is available in increments from 25 to 220 kW.
"This range expansion is the latest addition to an award winning portfolio, recently recognised by Frost & Sullivan as the most comprehensive array of data centre cooling products across the EMEA region," said Kevin Brady, vice president of thermal management for Vertiv in EMEA.
"This stems from our strong domain knowledge combined with deep customer understanding achieved at our Customer Experience Centre, that allows customers and consultants to experience the capabilities of Vertiv solutions at peak conditions. By continuously developing and refining our portfolio we are able to deliver best in class technologies that meet the data centre needs of the future."