The "Design Team of the Year" Award is an opportunity for architects, data center designers and engineering consultancies to showcase their best projects through the lens of the delivery team behind them. The winner will be announced at the DCD>Awards gala event held in London on December 7th 2017 following two rounds of judging by a heavyweight industry panel.
"Teamwork is key to all successful outcomes, especially when you are talking mission critical," says Mike O'Keeffe, VP Services at Vertiv who are sponsors of the award. "As a trusted partner to design consultants around the world we are delighted to sponsor this award recognizing excellence."
"AEC teams often work for months and sometimes even years on individual data center projects, and whilst some never actually get built they none-the-less serve as fountains of new ideas," adds George Rockett, CEO, DatacenterDynamics, who organise the awards program.
Finalists for this category will need to demonstrate a truly innovative approach to a new data center design or an infrastructure modernization project and show how their team dynamic led to a successful outcome for the project.
Joining Viktor Petik on the judging panel are three renowned data center experts, Peter Gross - Bloom Energy, Eddie Schutter – eBay, and Dave Wildman – Bloomberg.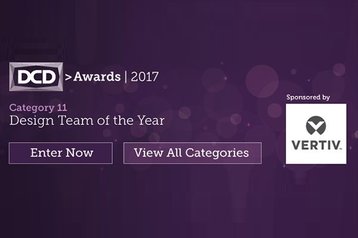 The Data Center Awards are going Global
After a decade recognizing excellence, DCD has decided to consolidate its previously regionalized industry awards program (EMEA, Asia-Pacific, US & Canada, Latin America) into a single, much larger and more powerful acknowledgement and celebration of outstanding innovation in the cloud and data center infrastructure sector.
The Global DCD>Awards creates the ultimate multimedia showcase of the best and brightest of people, projects and transformational innovations this increasingly public-facing industry sector has to offer. New and updated award categories are now open to entrants from across the world, that reflect the advances in new technologies and disciplines as our sector explores and pushes at the very definition of what the modern data center is.
Click here to find out about the 16 awards categories and to submit your entry.
Any questions? contact global.awards@datacenterdynamics.com