Vertiv (formerly Emerson Network Power) has agreed a long-term partnership with mobile network operator Telefónica, focused on reducing energy consumption of its digital infrastructure.
As part of Energy-Savings-as-a-Service (ESaaS) Vertiv experts will conduct regular energy audits across Telefónica's core and access sites in Europe and America, delivering "wide-ranging assessment reports outlining projected KPIs as well as energy savings for each site." The company will also provide comprehensive monitoring and maintenance services.
The deal was announced at Mobile World Congress in Barcelona.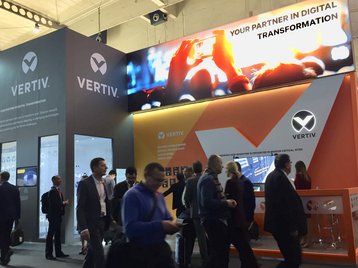 Trust the experts
Telefonica is one of the world's largest mobile network operators and Spain's second largest corporation. It has more than 350 million customers across 21 countries and operates data centers in Brazil, Argentina, Colombia, Peru, Chile, Ecuador, México and Spain.
The company has been doing business with Vertiv for more than 20 years, and has just signed up for its latest offering - Energy-Savings-as-a-Service.
As part of the service, Vertiv engineers will produce recommendations for optimizing the performance, capacity, availability and efficiency of critical infrastructure, hoping to ultimately increase energy savings.
The service requires no capital expenditure, with Vertiv fully financing the project as part of the ongoing ESaaS contract.
"Vertiv and Telefónica share the mutual goal of becoming more efficient and competitive through sustainable innovation," said Juan Manuel Caro, director of operations, Telefónica.
"Our company is committed to our objective on energy and climate change of reducing 50 percent of our energy consumption per traffic unit while enhancing our infrastructure and telecommunications services. Vertiv has been fundamental in our achievements, and we trust that through this partnership we can make much greater strides forward."
Vertiv is not the first company to offer an energy savings initiative on a pay-as-you-go basis – similar arrangements are available from Capgemini and Alternative Utility Services, among others.