Viasat's latest communications satellite is experiencing deployment issues that will impact its performance.
The company said an "unexpected event" occurred during reflector deployment that may materially impact the performance of the ViaSat-3 Americas satellite.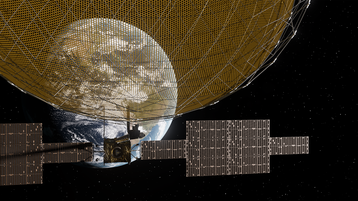 Viasat and its reflector provider are conducting a review to determine the impact and potential remedial measures, and contingency plans are being "refined" to minimize the economic effect on the company.
"We're disappointed by the recent developments," said Mark Dankberg, Chairman and CEO, Viasat. "We're working closely with the reflector's manufacturer to try to resolve the issue. We sincerely appreciate their focused efforts and commitment."
Viasat said potential options include redeploying satellites from Viasat's existing fleet to optimize global coverage, and/or reallocating a subsequent ViaSat-3 class satellite to provide additional bandwidth over the Americas.
The company's share value has dropped almost 35 percent since it announced the news.
First announced in 2015, ViaSat-3 is a constellation of three geostationary Ka-band communications satellites; Americas, EMEA, and APAC. The satellites are each expected to have a throughput of more than 1Tbps and download speeds of 100+ Mbps. The company itself has previously noted the satellites' "enormous" reflector.
The Americas satellite was the first of the three in orbit, launched in May 2023 aboard a SpaceX rocket. The EMEA satellite is due to launch in September. The company didn't say if this reflector issue will impact the deployment of the next satellite.
SpaceIntelReport noted that, if the satellite is lost, Viasat may trigger a $420 million claim. A space insurance underwriter described the situation to CNBC as a "market-changing event" for the sector.
CNBC noted the design of the reflector on the Viasat-3 Americas satellite appears to match the "AstroMesh" line of reflectors that Northrop Grumman advertises. Northrop Grumman did not immediately respond to CNBC's request for comment. Boeing provided the satellite bus, a 702MP+ platform.
In other recent satellite news:
– Hanwha Systems has secured regulatory permission to operate as a satellite communications provider in its home country of South Korea.
– Alphabet spin-out Aalyria has been awarded a $7 million contract with the Office of Naval Research and Naval Research Laboratory (NRL) to utilize the company's Tightbeam free space optics technology to develop over-the-horizon connectivity across the Navy's sea, air, and land assets.
– AST SpaceMobile is looking to raise around $60 million through the issuing of more than 12 million shares. The company said the proceeds would go towards general corporate purposes including payments for launch services and equipment in Q3 2023.
– Swedish firm Ovzon has been forced to delay the launch of its Ovzon 3 broadband satellite from September 2023 to "late 2023 or early 2024" as final assembly and testing of the satellite, in addition to modeling associated with changing launch vehicles, was taking longer than anticipated.
Ovzon's Maxar-made satellite was already delayed and forced the company to seek an extension with the ITU. In March, the company was granted a Bring Into Use (BIU) extension from February 2023 to December, meaning it may have to seek another extension.
- The ITU recently granted LEO satellite firm Rivada Space a waiver that required the company to place 10 percent of its constellation into orbit this year.
The ITU Radio Regulations Board determined that Rivada can proceed to its second deployment milestones of placing 144 satellites (plus 6 in-orbit spares) by June 2026 and a further 144 satellites (plus 6 in-orbit spares) by September of 2026. The company has also partnered with IEC Telecom to provide land and maritime communications.
– SES's latest satellite, SES-18 is now fully operational. The Northrop Grumman-made C-Band satellite is replacing SES-3's C-Band payload.
– Telesat has cleared its customers out of the 3700-3820MHz band as part of the FCC's C-Band clearing efforts. It will receive around $260 million from the US government for its efforts.
– Satellite services firm EchoStar has reportedly signed up seven companies for its new LoRa IoT network. API-K, Cyric, DalesLandNet, Dryad, Galaxy1, ProEsys, and Symes are using the real-time network for use cases such as soil moisture monitoring, early forest fire detection, utility metering, and pipeline monitoring.
– Intelsat and Lintasarta, via Lintasarta's mobile network operator subsidiary Indosat Ooredoo Hutchison (IOH), have deployed a network to cover remote areas in Indonesia. Comprised of nearly 400 sites, the new network covers Central and Western Indonesia including Sumatra.
– Astranis is to launch and operate a new small broadband GEO satellite in 2024 that will provide connectivity over the Philippines. The company is partnering with local ISP HtechCorp's satellite subsidiary Orbits Corp.
– The ITU has granted Iran an extension to place a satellite into the 43.5 degrees East slot by August 2024.
– Kepler Communications has signed a ground station services deal with Arctic Space after recently deploying a new antenna at the latter's Lita Ground Station Facility in Sweden.
– KSAT has launched a new ground station in Jeju, South Korea. The Contec-owned site is equipped with three standardized KSATlite ground systems.
– Paratus Group has announced a multi-year agreement with Ceragon Networks to provide offshore communication solutions in Angola, Mozambique, and Namibia. Ceragon provides microwave link technologies.
– The Chinese 'spy balloon' shot down over the US was reportedly "crammed" with off-the-shelf components from the US alongside specialized Chinese-made sensors as well as equipment capable of collecting photos, videos, radar data, and other data. A number of aerospace companies making including airships, balloons, and related components were added to the US Entity blacklist in the days following the balloon being shot down.