VMware has extended its EVO campaign to turn all data center hardware into a standard platform which will support its software, with a software defined data center (SDDC) specification called EVO SDDC.
The EVO program already includes EVO:RAIL, a fixed definition of a 2U hyperconverged processor and storage unit, which includes four processor units. EVO SDDC is the new name for the data center level extension of this, which was first promised last year under the name EVO:RACK.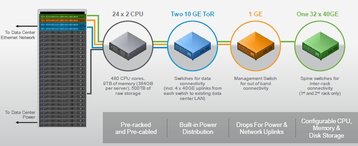 Software defined
In EVO, VMware wants to iron out differences in data center hardware. Multiple vendors will then produce functionally equivalent kit and VMware can offer the software that will deliver this to applications as pools of resources.
EVO SDDC emerged at VMworld in San Francisco, along with a new version of VMware's virtual storage offering vSAN 6.1.
"The challenge for customers considering an SDDC architecture is getting there quickly, efficiently, on budget and on time," said John Gilmartin, vice president and general manager, of VMware's integrated systems business unit, in a blog. "EVO SDDC jump-starts the process, and gets you there in a fraction of the time."
VMware wants customers to buy pre-qualified hardware, already installed in racks form EVO partners, and then apply the VMware software to make the whole thing light up as a cloud in a box - which VMware is calling the Unified Hybrid Cloud.
VMware promises EVO SDDC can halve capex, and reduce deployment times for IT organizations. It combines VMware's vSPhere, Virtual SAN, NSX networking and other elements so compute, storage and networking can be offered up together in one integrated layer running on commodity x86 hardware, along with commodity switches and storage. VMware will then sell software to manage the whole thing, starting with a new EVO SDDC Manager engine. 
EVO SDDC can start from one third of a rack, up to thousands of nodes in multiple racks. Eachrack can hold more than 1000 IaaS virtual machines, or more than 2000 desktop virtual machines.
As with the EVO:RAIL level definition, EVO SDDC depends on buy-in from hardware vendors. Some of these may have an understandable preference for supporting their own hardware designs, and selling their own management platforms, while others may prefer to go the whole open systems route and adopt open commodity hardware designs from the Open Compute project, with open source software from OpenStack.
So far, EVO SDDC supporters include Dell, QCT (Quanta Cloud Technology) and VCE, the hyper-converged hardware company, which is no surprise, since VCE is run by VMware's parent EMC.