Vocus and NSW Telco Authority have partnered together to develop a drone that acts as a mobile tower in the sky to support emergency services in Australia.
The duo state that the drone can provide critical 4G/5G mobile connectivity in emergencies such as natural disasters, using a tethered drone, and is supported through high-speed low-earth orbit satellite connectivity from Vocus's Starlink-powered satellite service.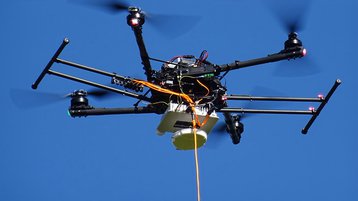 The Australian-made drone can provide connectivity across an area of up to 28 square kilometers while being able to fly for an indefinite period thanks to its ground-based power supply.
According to Vocus, the drone can carry up to 15kg, and hovers in the air with payloads that can include 4G/5G tower equipment, P25 two-way radio equipment, and bright floodlights or cameras.
The drone can be implemented to serve as an airborne mobile tower in a natural disaster situation where mobile towers may have been disrupted or damaged, the telco said.
Vocus-owned Challenge Networks, which specializes in building private 4G and 5G networks, designed and built the solution.
The solution has been tested by emergency service organizations during a demonstration at a NSW Rural Fire Service base in Bimbimbie.
The demonstration was led by the NSW Telco Authority's Next Generation Digital Connectivity initiative, which explored how the drone can provide critical communication services during natural disasters, especially where standard mobile networks have been disrupted.
"This is an example of how Vocus is using its strength in satellite technology, and Challenge Networks' expertise in wireless and systems integration to deliver a brilliantly simple solution for a particularly Australian challenge," said Ashley Neale, development manager of space and satellite, Vocus.