Vodafone has paired with Amazon's low Earth orbit (LEO) satellite service, Project Kuiper, to extend mobile connectivity across Europe and Africa.
Announcing the deal today (September 5), the operator, along with its South African mobile unit Vodacom, confirmed that it will extend the reach of 4G and 5G mobile services in underserved parts of the two continents.
Founded in 2019, Project Kuiper is Amazon's initiative to increase global broadband access via a constellation of 3,236 LEO satellites.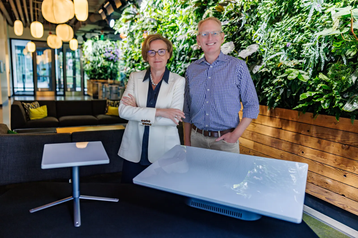 According to Vodafone, Project Kuiper will connect geographically dispersed cellular antennas back to the companies' core telecom networks.
The partnership with Project Kuiper means Vodafone and Vodacom will be able to offer 4G and 5G services in more locations without the time and expense of building out fiber-based or fixed wireless links back to the core networks.
Vodafone will roll out Project Kuiper's high-speed broadband services to unserved and underserved communities around the world, while the companies are also exploring additional enterprise-specific offerings to provide businesses with comprehensive global connectivity solutions, such as backup service for unexpected events and extending connectivity to remote infrastructure. 
"Vodafone's work with Project Kuiper will provide mobile connectivity to many of the estimated 40 percent of the global population without internet access, supporting remote communities, their schools and businesses, the emergency services, and disaster relief," said Margherita Della Valle, Vodafone Group chief executive. "These connections will be complemented further through our own work on direct-to-smartphone satellite services."
Vodafone, Vodacom, and Project Kuiper will start deploying services in Africa and Europe as Amazon's production satellites come online, confirmed Vodafone.
Meanwhile, Amazon is preparing to test two prototype satellites in the coming months before starting to deploy production satellites in 2024, while the hyperscaler expects to begin beta testing Project Kuiper services with select customers by the end of 2024.
"Amazon is building Project Kuiper to provide fast, affordable broadband to tens of millions of customers in unserved and underserved communities, and our flexible network means we can connect places that have traditionally been difficult to reach," said Dave Limp, Amazon's senior vice president for devices and services.
"Teaming with a leading international service provider like Vodafone allows us to make a bigger impact faster in closing the digital divide in Europe and Africa. Together we'll explore how we can help our customers get the most value from expanded connectivity, particularly in areas like residential broadband, agriculture, education, healthcare, transportation, and financial services."
In July, Amazon confirmed it will build a $120 million satellite-processing facility at Space Florida's Launch and Landing Facility at the Kennedy Space Center, as part of plans to support the rollout of Project Kuiper. The facility will be 100,000 square feet (9,300 sqm).
Amazon has to launch half of its planned 3,236-satellite constellation by July 30, 2026, or risk losing its FCC license to operate the satellite network.
Rival SpaceX, meanwhile, already has more than 4,000 satellites in orbit.
Vodafone has previously signed deals with LEO satellite company AST SpaceMobile to provide direct-to-cell coverage.
In other satellite news:
In Japan, mobile operator KDDI Corp has signed an agreement with SpaceX to provide satellite-to-cellular service in the country. The service will use SpaceX's Starlink satellites and KDDI's national wireless spectrum, and will target hard-to-reach areas including rural locations, islands, and mountainous areas. KDDI noted that it will initially offer SMS text services from next year, with voice and data poised to be added later. KDDI has previously signed backhaul agreements with Starlink.
Elsewhere, OneWeb has announced a multi-year, multi-million dollar partnership with Perth-based satellite service firm Sat One to deliver OneWeb's low Earth orbit (LEO) connectivity solutions across Australia and New Zealand. Powered by OneWeb's LEO satellite communications network, Sat One will be able to offer connectivity services designed specifically for the most remote Australian enterprises, including mine sites and remote communities.