Vodafone has teamed up with Vilicom to deploy 4G services to the world's largest offshore wind farm.
The UK operator has provided Hornsea 2, which is located 88km (55 miles) off the coast of Yorkshire, UK, with 4G services to assist with operations and maintenance at the wind farm.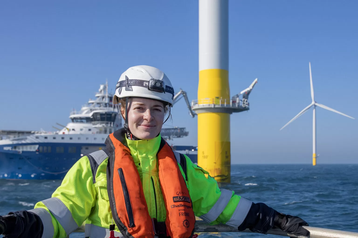 Hornsea 2, which was built by Danish company Ørsted, is a crucial provider of renewable energy, potentially powering more than 1.4 million UK homes. It will reportedly provide 1.3GW of renewable energy to the UK.
Vodafone, along with Vililcom, which is owned by shared communications infrastructure provider BAI Communications, has worked together to provide the mobile boost to the wind farm.
The 4G services will supply mobile signal for workers on Hornsea 2 to stay in contact with those on the mainland, while Vodafone claims the 4G signal covers the route to and from the port, plus the entirety of the wind farm.
"Building a complete mobile infrastructure on an offshore wind farm is a technical challenge, but I'm delighted we're able to provide the connectivity that Ørsted's Hornsea 2 needs to connect to the outside world and be efficiently managed," said Vodafone UK business director Nick Gliddon.
Gliddon adds that the collaboration with Vilicom goes some way to supporting Vodafone's pledge to reach net zero in its UK operations by 2027.
In the UK, Vodafone has recently confirmed it's in talks with fellow UK operator Three over a potential merger that could be worth close to £15 billion ($16.8bn). The framework of a potential merger would see Vodafone owning 51 percent of the business, with CK Hutchison, the parent group of Three, owning the remaining 49 percent.
Meanwhile, BAI Communications acquired Vilicom last year, and is tasked with providing the infrastructure for a 4G service across the London Underground by 2024.
BT Wholesale is providing data center space to support BAI Communications. Earlier this year BAI signed a 'multi-million-pound contract' under which BT's wholesale unit will deliver a core part of BAI's data center requirements and host infrastructure in one of the telco's London facilities.