Volvo Group has announced the deployment of a private LoRaWAN network at a facility in Lyon, France.
It's part of plans from the Swedish automotive manufacturer to implement a new Internet of Things (IoT) network to make its factories smarter.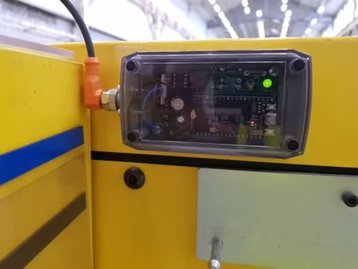 As part of this, Volvo Group has deployed the private LoRaWAN network to manage its autonomous guided vehicles (AGVs) and move parts around the manufacturing floor.
It's effectively being used for predictive maintenance, the company claimed in a press release.
This will enable Volvo Group to transport heavy engines for trucks, industrial power systems, and boats, around its Lyon factory, with these heavy engines reliant on utilizing AGVs.
These AGVs run on 24V batteries, but when the voltage goes under 22V, the AGVs stop and simply block the production chain. However, a LoRaWAN solution can solve this, the company claimes.
"The team initially looked at WiFi technology, but the WiFi 2.4GHz band was already being used for critical processes in the production line. Faced with this challenge, the IoT team looked toward LoRaWAN, an LPWAN protocol designed to connect battery-operated 'things' to the Internet for powering the large fleet of AGVs," said Volvo Group.
Volvo Group added that LoRaWAN is ideal for the manufacturing process as it provides long-range capability, good resistance to interferences, and a secured and flexible network architecture.
A LoRaWAN sensor has been installed on every AVG to receive periodic voltage data of the battery levels (<23V) or battery failures. This system notifies the maintenance team with regular updates, which can provide more time to move the AVGs to the charge point, without blocking the production line.
"Implementing a radio infrastructure in our factory was a challenge, and we wanted to have a LoRaWAN network connected directly to our secure Ethernet network to avoid any cloud dependence," said Julien Bertolini, principal solution architect IoTat Volvo Group Digital & IT.
"So, we have selected a Multitech industrial grade LoRa Gateway, with some Edge computing capabilities and robust cybersecurity features to successfully qualify it through a complete IT audit."
On top of using hardware from Multi-Tech, Volvo Group is using a cloud platform from PTC (Thingworx), which is an industrial IoT software.
New sensors have also been added for additional purposes at the factory in Lyon, such as a temperature and humidity sensor designated for painting to improve the rendering quality and pressure difference sensors for monitoring filter clogging.