Brazilian data center group V.tal has announced plans for a new facility in Porto Alegre, Brazil.
"[Today] we announce the launch of the V.OA project, a new Edge data center that will be built in Porto Alegre," the company said in a LinkedIn post this week.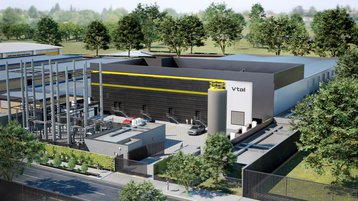 The data center will have capacity for 400 racks in two data halls across ​​7,000 sqm (75,350 sq ft). Construction is expected to begin this year for a H2 2024 go-live date. The firm said the 6MW facility will see R$250 million (US$41.1m) invested in the project.
"The concept of the Edge data center is precisely to bring the data storage infrastructure closer to consumers and, therefore, reduce latency or response time. Increasingly, content providers want to be closer to their users to offer them a better experience when using applications," said Felipe Campos, VP of wholesale at V.tal. "We chose Rio Grande do Sul because it is a state undergoing rapid technological development, has a strong and active ecosystem, and a privileged location to serve customers from countries in the southern cone."
Plans for an Edge facility in Porto Alegre were first mooted by the company back in December 2022, at the time suggesting plans for a 4MW data center.
According to BNAmericas, the site is currently a warehouse in Bairro Quarto Distrito that will be retrofitted.
V.tal also operates data centers in Rio de Janeiro and Fortaleza in Brazil, and Barranquilla in Colombia for a combined total of 10MW. Earlier this year the company purchased more land in Fortaleza for a second data center expected to go live in 2025, and is planning a second Barranquilla due to launch later this year.
V.tal is a fiber firm, now part of telco GlobeNet, that was previously Oi's fiber-optic infrastructure assets unit. GlobeNet owner BTG acquired a majority equity interest V.tal last year.
All of V.tal's facilities are linked by 26,000 kilometers of underwater optical cables that also connect Brazil to Argentina, Chile, Venezuela, Colombia, Bermuda, and the United States. The company owns the largest neutral fiber optic network in Brazil, and in total invested $943 million in data centers, fiber, and modernization in 2022.
Versions of this story appeared on our Spanish and Brazilian editions.