Xantaro has unveiled a street cabinet product that will enable UK altnets (alternative fiber network providers) to extend Internet coverage in rural and densely populated urban areas.
The company specializes in supplying services and equipment for UK telecom providers.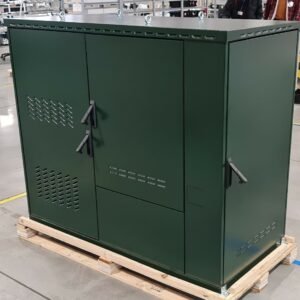 According to Xantaro, a single cabinet can serve more than 8,000 homes. The company names two UK altnets, Upp Network and GoFibre, as companies using the cabinets.
The cabinet is (1400mm h x 1575 w x 775 d) in size and has three doors offering secure separate access to power, passive equipment, and active equipment.
Xantaro notes that separate doors allow for better organization and fewer hazards.
The design also allows for technicians to work on one component without disrupting others, adds the company, noting that this reduces downtime and minimizes the risk of impacting other network services during repairs.
The cabinets use a heat exchange, rather than an external air cooler.
Xantaro states the air cooler meter compartment in the cabinet can be used for fault detection, enabling prompt maintenance, and if there's a power outage, the cabinet can obtain three to four hours of battery backup.
"Following extensive research and development, we are proud to offer our Xantaro street cabinet that addresses the unyielding need for FTTH across the UK, while also building more sustainable networks for the future," said Stephen Kingdom, CTO at Xantaro.
"With the market as competitive as it is, this best-in-class and economical solution will enable altnets to unlock new revenue opportunities and deliver connectivity to both those who need it most."