The increasing familiarity with cloud computing is driving a greater demand for data center resources than ever before, according to David Gauthier, senior director for data center strategy and architecture at Microsoft.
The result is greater requirements for both general compute and special purpose hardware in a data center, which in turn drives demand for scale-up systems and more kilowatts per rack, said Gauthier at the DCD>Zettastructure conference held in Singapore this week.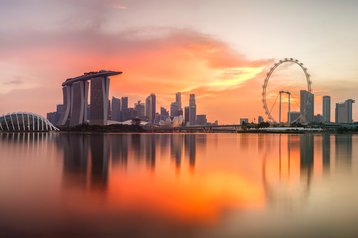 The growing cloud footprint
The increased demand is an opportunity for Microsoft, but it also poses a challenge: "How do we get into more markets while maintaining the current levels of efficiency [in our data centers]? After they move their first workloads onto our infrastructure, people are getting increasingly comfortable about what's the next workload to [migrate] onto the cloud."
And this is an important question, given that Microsoft has well over 100 data centers at this point and over a million servers. "We need to be very cognizant of how we operate… and how we give back to the community in the form of not taking these resources," said Gauthier.
He talked about an old experiment at Microsoft in which servers were operated for years in a tent, forming the foundation for the use of open air economizer at the company's data centers. Gauthier said Microsoft currently uses the technology almost everywhere around the world, though excluding Singapore and "a couple of other locations."
Green in Singapore
What is Microsoft doing in Singapore? Aside from making use of NEWater – that is reclaimed from waste water – at its facilities here, Microsoft is also looking to minimize the use of water resources or even eliminating their use for cooling entirely.
"We're making a lot of investments through optimizations with machine learning, and how we can move to water-free cooling," Gauthier said. However, he conceded that options are currently limited in terms of solutions that don't involve substantial uses of energy.
"For now, Internet of Things and big data platforms make it increasingly easy to optimize data centers. Specifically, the use of IoT telemetry, analytics and machine learning for predictive maintenance such as when to replace filters and batteries," he said.