Nickel-zinc battery provider ZincFive has announced a new generation of its BC battery cabinet for Megawatt-class UPS storage in data centers.
ZincFive says the BC 2 offers the smallest footprint per kilowatt, improving on the previous record holder, the first-generation BC battery cabinet. The BC cabinets are backward and forward-compatible with megawatt-class UPS inverters. and offer performance benefits over the market-leading battery technology, lithium-ion, according to ZincFive.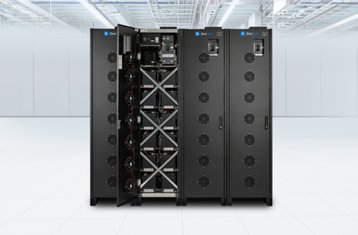 While lithium-ion batteries are criticized for their potential danger due to thermal runaway, which has caused serious fires, including a December outage that brought down South Korea's Kakao Talk social media application, nickel-zinc batteries are claimed to have minimal maintenance requirements, and no danger of thermal runaway, while providing high reliability for mission-critical data centers.
ZincFive has also published third-party sponsored research from Boundless, which argues that nickel-zinc batteries have a lower end-to-end climate impact than lead-acid or lithium batteries, as validated by an expert third-party analysis.
The BC 2 Battery Cabinet is 21 inches wide and has passed a seismic shake test to an SDS of 2.29g, so it can be deployed in regions with seismic activity. It also features active cooling so it can be used in a wide range of temperatures.
Inside, however, it features the same NiZn batteries that ZincFive has been promoting for 10 years. It comes fully assembled.
"ZincFive continues to innovate with our powerful, safe, and reliable nickel-zinc battery technology, and the BC 2 is a great solution to address all current and future data center needs," said ZincFive CEO and Co-Founder Tim Hysell.
Zinc is one of a number of battery chemistries proposed as alternatives to lithium-ion batteries, which were invented by John Goodenough in the 1970s. Others include sodium-ion batteries. Goodenough himself has been proposing solid glass electrolytes.