American startup ZincFive is set to launch a modular uninterruptible power supply (UPS) system for data centers, based on Nickel-Zinc batteries.
Nickel-Zinc cells have been around for more than a century – they were originally developed by serial inventor Thomas Edison – but the applications were limited due to a low number of charge cycles, an issue ZincFive claims to have solved.
The company says its batteries present a viable alternative to traditional Lead-Acid and more recent Li-Ion batteries, offering high power density, small footprint and improved safety.
In addition, Nickel-Zinc batteries will last for the lifetime of the UPS system, unlike Lead-Acid cells that have to be replaced and recycled every few years.
The system will be launched at the Data Center World Global conference and exhibition in San Antonio, Texas, next week.
ZnO + 2Ni(OH)2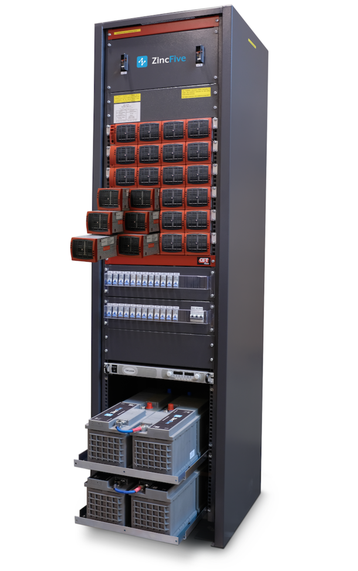 ZincFive (formerly EnSite Power) was established in 2016 to commercialize Nickel-Zinc battery technology for large-scale energy storage applications. To this end, the company has successfully filed 74 patents and got another 29 pending.
ZincFive claims its batteries are less hazardous than Lead-Acid batteries, and physically safer than Lithium-Ion. They offer long life, require no periodic maintenance and support a wide operating temperature range.
The ZincFive UPS Model 48-3-208 uses Nickel-Zinc batteries alongside replaceable inverters designed by CE+T Power. The entire 3-phase system is modular, with capacity upgrades in 6kW increments up to a total of 48kW per cabinet.
The compact size enables customers to place the UPS closer to the actual load and the entire system is 'touch-safe' – it can cause no electrical injury since it relies on 60V voltage.
The company previously said that in December, it shipped a UPS system to a "major" data center provider for testing.
"ZincFive's nickel-zinc batteries and CE+T Power's intelligent, modular inverter system transform UPS power density, footprint, weight, safety and maintenance to deliver a low total cost of ownership," said Larry Eggleston, president of Solutions Division at ZincFive.
"Powerful, fail-safe and environmentally friendly nickel-zinc batteries that last for the life of the UPS system, upends the traditional UPS performance, safety and maintenance model."