Quantum computing offers world-changing potential to reshape numerous fields, enabling researchers to solve problems exponentially faster than they ever could using conventional computers.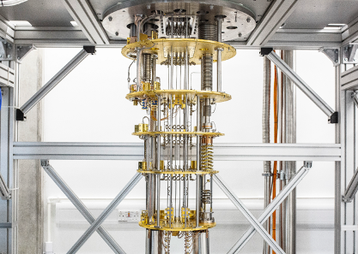 Companies are investing heavily to build a scalable quantum computer that can tackle problems that can't be handled by traditional computers. In the meantime, the usefulness of quantum computers is already being witnessed in far-flung sectors from finance to chemistry, and from materials science to oil and gas.
But nearly 20 years after mathematician Peter Shor introduced a quantum-computing algorithm in a proof-of-principle demonstration, getting to the other side of the rainbow still requires another big push. If quantum computing is to fully realize its potential as a technology, it must be accessible and seamlessly integrated within the current computing and data management infrastructure of a business.
However, deploying a private quantum computer on premise is an extremely expensive proposition requiring building or upgrading mechanical, electrical and plumbing (MEP) systems, and sophisticated maintenance.
One way to leapfrog some of those challenges is through quantum computing-as-a-service (QCaaS), where quantum computers are offered "as a service" via a private or public cloud. This is an attractive option for organizations that lack the resources or in-house technical expertise to build and operate their own on-premises quantum computers. The potential downside is that they must still navigate periodic cloud challenges around latency and security.
Oxford Quantum Circuits (OQC), Europe's leading quantum computing company, and Cyxtera, a global leader in data center colocation and interconnection services, are taking a new approach. The partnership between the two companies will mark the world's first integration of a full-scale quantum computer in a colocation data center.
Cyxtera's customers in the UK will have access to quantum-computing-as-a-service via the company's Reading data center campus – dramatically reducing latency times for quantum algorithms and use cases.
Deploying QCaaS through a colocation approach offers a secure, seamless connection to quantum computation, enabling customers to connect and integrate into their own IT stack as if it were on-premises. This offers several advantages when it comes to performance, cost, speed, and ease of access.
What's more, the colocation datacenter deployments and direct-QCaaS combination offers important security and access benefits that customers may want from an on-premises computer, but without the need to own a physical quantum computer.
The engineering to operate all this is not trivial. The genius behind deploying quantum computers into data centers is that it enables users to enjoy zero-friction and seamless access to QCaaS.
Let's take a closer look at how this will look in practice:
Direct-connect. Direct-connects give users direct-QCaaS access with direct data connections wherever they are in the world, along with low latency and high security. This gives users the ability to connect directly with customers, partners, other data centers and other computational resources without touching the public cloud or internet.

Low latency access. Deploying into data centers enables customers to spin up a quantum processing unit (QPU) at existing data endpoints, right next to their existing high-performance compute and other processing capabilities.

Security and redundancy. Data centers are set up with a customer's high security and redundancy needs in mind. The integration of quantum computers into data centers leverages the benefits of physical and data security enabled by existing data center infrastructure and provides a zero friction and seamless customer experience. Customers will have the ability to architect their deployment in line with their security best practices and current deployments, as there is no proprietary cloud platform with an abstracted network plane serving as an intermediary.

Multiple connectivity options will be available, from dedicated Layer 1 interconnects, which provide the utmost control and lowest latency access, as well as Layer 2 access via Cyxtera's Digital Exchange, which will provide an on-demand software defined interconnection or lastly, via traditional Internet. Customers will have the ability to architect their deployment in line with their security best practices and current deployments; importantly, there is no proprietary cloud platform with an abstracted network plane as an intermediary.
These advances will help break several of the logjams that have held back the arrival of a quantum-enabled future. A world of 24/7, always-connected quantum compute as a service means we're that much closer to putting this remarkable computing power in the hands of humanity.
It's time to start thinking about data centers as the digital accelerator for what's next. For too long the industry has thought of data centers as real estate with racks and power. But the space has evolved and continues to evolve.
Today's data center is driven by innovation, cutting-edge software and engineers imagining the practical access of once far-flung ideas into a near term reality. That's why many organizations will be able to begin leveraging technologies like quantum computing sooner than anticipated.
More...
Oxford Quantum Circuits offers access to home-grown 4 qubit Sophia Quantum system

Quantum Motion is a small startup with big ambitions. It hopes to change the world, but is it all just spin?

Cyxtera's LHR3 facility in Reading first colo data center to house quantum system