You can't blame Apple for walking away from its plan to build a giant data center in County Galway, Ireland. It announced its intentions in 2015, and has been fighting appeal after appeal from angry residents since then. A similar facility in Denmark, which was proposed on the same day, has been built and opened in 2017, with a second one coming in 2019. Meanwhile, thanks to a Supreme Court decision last week, Apple still hasn't been able to get its Irish project off the ground. 
The initial plan for the Athenry site was quickly approved by Galway County Council, but appeals kept bringing the case back to the Irish planning board (An Bord Pleanála) and the Commercial Court. It was approved in 2015, 2016 and 2017, and the protesters were denied leave to appeal further. They appealed against that decision, and last week the Supreme Court took their side. It was the last straw for Apple, and the company walked away.
According to research by Digital Realty, a major data center can bring as much as $590 million in benefits to the local economy.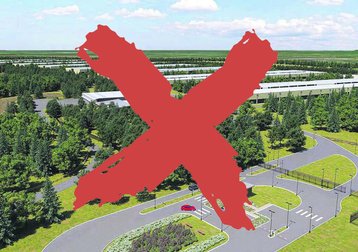 Your loss?
The project's local supporters, the Athenry for Apple group, said this was not just a disappointment in Galway, but a "blow to the country", and blamed Ireland's cumbersome planning process.
Paul Keane of Athenry for Apple said the development "should have been fast-tracked in the way it happens in other European countries."
Noel Doherty of Athenry Bring Back Apple (ABBA) thinks the Irish legal system has caused economic damage to the country as a whole, according to a quote in the Irish Times: "This would have been the beginning of a hub for Athenry and further afield, 150 jobs might not seem like a lot, but it's equal to 5,000 jobs in Dublin to us."
The Irish government agrees. It has attempted to streamline the planning process, with reforms that arrived in March 2018: "The kind of reforms we need are already underway, particularly in relation to our legal system," said Ireland's Minister of State for the Diaspora and International Development, Ciarán Cannon, on the Athenry for Apple group's Facebook page.  
One change is that data centers are now categorized as "strategic infrastructure developments," and planning applications go directly to An Bord Pleanála, and not to the County Council. However, that change alone would have made no difference to the result in Athenry, as the County Council approved the original application within a couple of months.
Should we be worrying about all this? Ireland still has a thriving digital economy, and Apple has said that its commitment to the country - and its low tax regime - remains unchanged. As a testament to this, the company is investing more in its Cork facility, which employs 3,000 people.
Data centers are valuable
There's an argument to be had about the value of cloud data centers to local economies. Apple, along with Amazon, Facebook and others, can play local governments against each other, and place its data centers wherever the benefits are greatest. Once they are built, hyperscale facilities employ very few people, and skeptics in Oregon reckon that the incentives offered to Apple actually cost Crook County $102 million in taxes.
On the other hand, reports from the data center industry agree with Doherty, that the overall effect is positive. A "Data Economy" report from Digital Realty puts a high figure on the value of a data center, claiming a single large facility can contribute up to $590 million (£436m) to the economy in the UK, with similar figures for Ireland. 
In 2017, a report from Menon Economic in Norway found that one 90MW data center would benefit the national economy with 6,800 full-time jobs over the first 12 years, and 450 jobs thereafter, or $650 million during the 12-year period (many thanks to Derek Webster for this link).
These benefits are indirect and somewhat intangible. It is important to check what kind of jobs we are talking about, and how reliant an economy becomes on them. For instance, Digital Realty found that Germany has the largest digital economy in Europe, at €108 million, but this only contributes around 3.8 percent of the country's economic output. The UK and Ireland have swung to digital jobs faster: both have smaller digital economies, but are more reliant on them - they make 4.2 and 4.0 percent of their output, respectively. 
It is also important to make sure that planning authorities thoroughly check construction projects, and unrestrained development doesn't spoil our environment. 
But I think we can be clear that in this instance, Ireland has lost out. We expect to see further efforts made to ease the progress of any future data center proposals there.